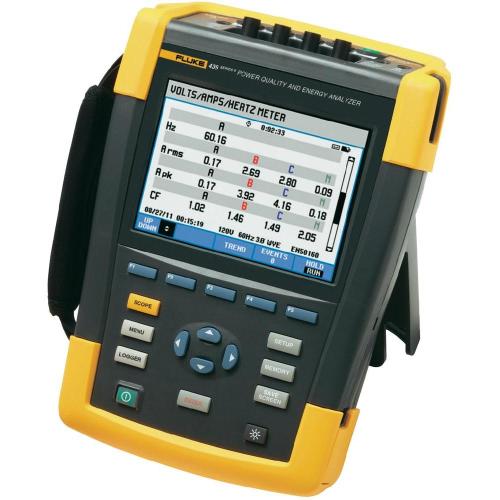 Fluke 435
For monitoring and recording voltage, amps, dips, swells, surges and harmonics.
Complete with software to view/download your results and quickly produce professional reports.
The Fluke 435 for hire,  three-phase Power Quality Analyzer features 0.1 percent voltage accuracy and GPS time sync option, making it fully compliant with the IEC 61000-4-30 Class A standard. Fluke has also doubled the memory and added a user-configurable logging function, which allow the Fluke 435 to be set up easily for any test condition with memory for up to 100 parameters on all four phases – or a total of 400 – at user-defined intervals. Users can easily view logged data and generate reports with the new Fluke Power Log software, included with the unit.
Additionally, the Fluke 435 features Mains Signaling capability that enables users to measure interference from ripple control signals at specific frequencies. It also includes four flexible 3000 A current probes that are 600 V CAT IV-rated and instrument-powered, eliminating the need for batteries. The Fluke 435 also comes complete with a new rugged transit case with rollers.
Both 430 Series analyzers incorporate the new IEC standards for flicker, harmonics and power quality for convenient troubleshooting of both three-phase and single-phase power distribution systems. Users can analyze trends in real time using the cursors and zoom tools while background recording continues. The series now includes expanded wiring configurations with 2 and 2.5 element measurement modes, improved 0.001 Hz resolution, and supports GPS time synchronization according to IEC 610000-4-30 with the optional GPS430 module.
The enhanced 430 Series analyzers also feature improved phase angle resolution of 0.1 degree that is referenced to L1/A voltage, and a phase rotation indicator that enables users to determine correct connections by providing clear indication of the phase rotation direction. The Fluke 434 and Fluke 435 Power Quality Analyzers have a safety rating of 600 V CAT IV and 1000 V CAT III.
The new Fluke 435 is supplied with a rolling hard carrying case, four instrument-powered flexible current probes, five test leads and crocodile clips, battery charger, and BP190 NiMH rechargeable battery (pre-installed and able to provide 7 hours per charge). It also comes with FlukeView analysis and PowerLog software, optical USB cable, color localization set, quick start printed manual, and user manual CD. An upgrade kit is available for the Fluke 434 that adds to it the logging function, mains signaling measurement, and flexible instrument-powered current probes provided as standard with the Fluke 435.
SKU: f435-19
HIRE DURATION
PRICE per week
Technical Specs

Flexi 3000A C/Ts
5 x Voltage leads
Software for printing results

Fluke

Fluke United Kingdom is a subsidiary of Fluke Corporation in Everett, Washington.
Fluke Corporation is the world leader in the manufacture, distribution and service of electronic test tools and software.
Since its founding in 1948, Fluke has helped define and grow a unique technology market, providing testing and troubleshooting capabilities that have grown to mission critical status in manufacturing and service industries. Every new manufacturing plant, office, hospital, or facility built today represents another potential customer for Fluke products.
From industrial electronic installation, maintenance and service, to precision measurement and quality control, Fluke tools help keep business and industry around the globe up and running. Typical customers and users include technicians, engineers, metrologists, medical-device manufacturers, and computer network professionals — people who stake their reputations on their tools, and use tools to help extend their personal power and abilities.
Fluke has achieved the number one or number two position in every market in which it competes. The Fluke brand has a reputation for portability, ruggedness, safety, ease of use and rigid standards of quality.

Delivery & Collection Information

We use next day couriers to deliver all our test instruments.  That means it doesn't matter if you're 2 or 200 miles away, we can have the test equipment you need, delivered first thing, next day.

When you have finished with the test equipment we can arrange for the same courier to collect it from you.

We also offer a same day delivery service for when you really need the test equipment urgently.