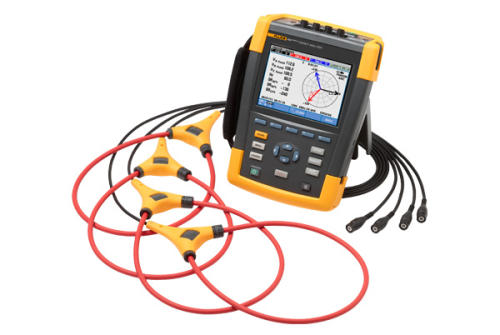 Fluke 435 II Series 2
For Hire
Advanced power quality functions, unprecedented energy analysis capabilities.  Think of the Fluke 435 II Power Quality and Energy Analyzer as your insurance policy. No matter what goes wrong in your facility, with the 435 II you will always be prepared. Equipped with advanced power quality functions and energy monetization capabilities, there is no electrical issue this model can't handle.
Power inverter efficiency: Simultaneously measure AC output power and DC input power for power electronics systems using optional DC clamp.
PowerWave data capture: Capture fast RMS data, show half-cycle and waveforms to characterize electrical system dynamics (generator start-ups, UPS switching etc.).
Energy loss calculator: Classic active and reactive power measurements, unbalance and harmonic power, are quantified to pinpoint the fiscal costs of energy losses.
Troubleshoot real-time: Analyze the trends using the cursors and zoom tools.
Highest safety rating in the industry: 600 V CAT IV/1000 V CAT III rated for use at the service entrance.
Measure all three phases and neutral: With included four flexible current probes with enhanced thin flex design to fit into the tightest places.
Automatic Trending: Every measurement is always automatically recorded, without any set-up.
System-Monitor: Ten power quality parameters on one screen according to EN50160 power quality standard.
Logger function: Configure for any test condition with memory for up to 600 parameters at user defined intervals.
View graphs and generate reports: With included analysis software.
Battery life: Seven hours operating time per charge on Li-ion battery pack.
SKU: f435ii-19
HIRE DURATION
PRICE per week
Technical Specs

6000A Flexi C/Ts
5 x Voltage Leads
Software for producing reports
Dips Swells Spikes
Current, Volatge
Flicker,
Frequency, Harmonics,
Inrush Current, Inrush Duration,
Kilowatt Hour, Power Factor, Unbalance,

Fluke

Fluke United Kingdom is a subsidiary of Fluke Corporation in Everett, Washington.
Fluke Corporation is the world leader in the manufacture, distribution and service of electronic test tools and software.
Since its founding in 1948, Fluke has helped define and grow a unique technology market, providing testing and troubleshooting capabilities that have grown to mission critical status in manufacturing and service industries. Every new manufacturing plant, office, hospital, or facility built today represents another potential customer for Fluke products.
From industrial electronic installation, maintenance and service, to precision measurement and quality control, Fluke tools help keep business and industry around the globe up and running. Typical customers and users include technicians, engineers, metrologists, medical-device manufacturers, and computer network professionals — people who stake their reputations on their tools, and use tools to help extend their personal power and abilities.
Fluke has achieved the number one or number two position in every market in which it competes. The Fluke brand has a reputation for portability, ruggedness, safety, ease of use and rigid standards of quality.

Delivery & Collection Information

We use next day couriers to deliver all our test instruments.  That means it doesn't matter if you're 2 or 200 miles away, we can have the test equipment you need, delivered first thing, next day.

When you have finished with the test equipment we can arrange for the same courier to collect it from you.

We also offer a same day delivery service for when you really need the test equipment urgently.