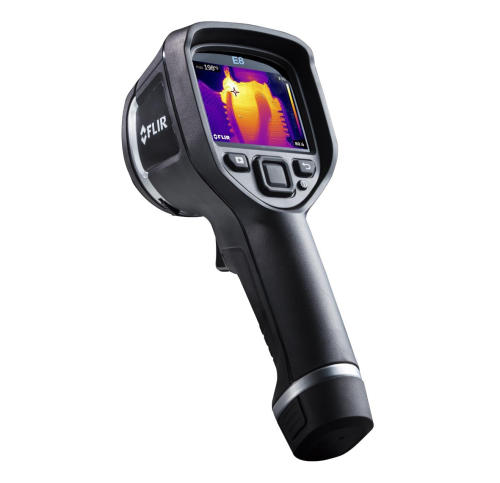 FLIR E8 – Pro Thermal Imaging Camera from Flir
The E8 is the top of the family with a 320 × 240 detector for excellent thermal image clarity. That's 76,800 pixels in total! This allows you to inspect ever smaller components from the same distance or the same target from farther away, to help facilitate greater safety benefits and convenience.
SKU: flire8-18
HIRE DURATION
PRICE per week
Technical Specs

76,800 Pixels
320×240 Resolution
Stores hundreds of thermal, MSX and visible image JPEGs
Focus-free IR and Visible Camera
Built in Digital Camera

Flir

About FLIR

FLIR Systems – The World's Sixth Sense

FLIR Systems, Inc. designs, develops, manufactures, markets, and distributes technologies that enhance perception and awareness. We bring innovative sensing solutions into daily life through our thermal imaging systems, visible-light imaging systems, locator systems, measurement and diagnostic systems, and advanced threat detection systems. Our products improve the way people interact with the world around them, enhance public safety and well-being, increase energy efficiency, and enable healthy and entertained communities.

Delivery & Collection Information

We use next day couriers to deliver all our test instruments.  That means it doesn't matter if you're 2 or 200 miles away, we can have the test equipment you need, delivered first thing, next day.

When you have finished with the test equipment we can arrange for the same courier to collect it from you.

We also offer a same day delivery service for when you really need the test equipment urgently.