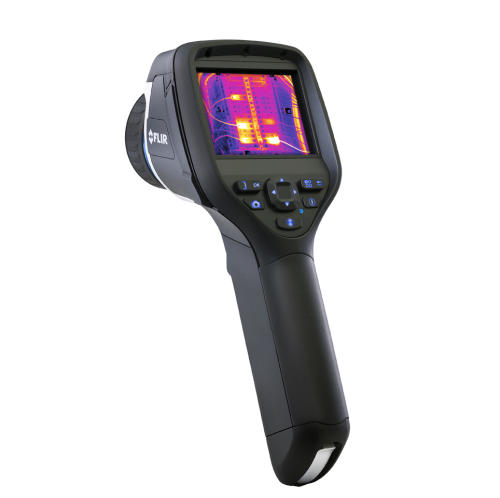 FLIR E60 – Pro Thermal Imaging Camera
The Flir E60 is the perfect thermal imager for all aspects of work. Whether thats finding tricky underfloor heating faults, electrical surveys, pest control or TV and video – The Flir E60 can do it all!
The FLIR E60 thermal imaging camera is a compact, lightweight, easy to use thermal imager designed for everyday electrical / mechanical / building inspections by the novice, intermediate or professional thermographer. The Flir E60 includes all the features of the FLIR E40 and boasts additional benefits of 320×240 resolution, a 4x zoom and instant report.
SKU: flire60-18
HIRE DURATION
PRICE per week
Technical Specs

320×240 Resolution
Temperature range: -20°C to +650°C
Moveable spots
3 area boxes with min/max indicators
Auto hot/cold spot
Isotherm mode
Delta T
Built-in 3Mpix digital camera

Flir

About FLIR

FLIR Systems – The World's Sixth Sense

FLIR Systems, Inc. designs, develops, manufactures, markets, and distributes technologies that enhance perception and awareness. We bring innovative sensing solutions into daily life through our thermal imaging systems, visible-light imaging systems, locator systems, measurement and diagnostic systems, and advanced threat detection systems. Our products improve the way people interact with the world around them, enhance public safety and well-being, increase energy efficiency, and enable healthy and entertained communities.

Delivery & Collection Information

We use next day couriers to deliver all our test instruments.  That means it doesn't matter if you're 2 or 200 miles away, we can have the test equipment you need, delivered first thing, next day.

When you have finished with the test equipment we can arrange for the same courier to collect it from you.

We also offer a same day delivery service for when you really need the test equipment urgently.