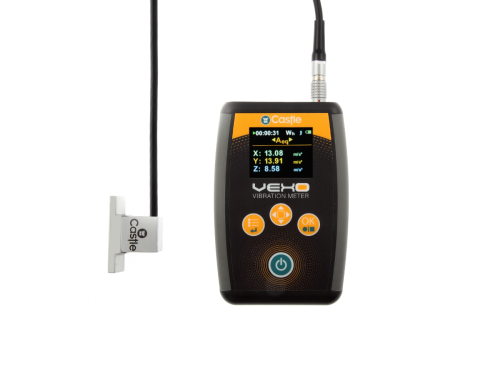 Castle Vexo GA2006 H
The castle Vexo GA2006 for hire. Measure vibration levels with the Vexo H Tri-Axial Vibration meter and reduce your risk of hand arm vibration syndrome (HAVS). This powerful meter is capable of accurate measurements while remaining simple to use. Designed with a simple 3 button operation it is possible to take measurements which can be easily read on the colour display or stored for later download to VIBdataPro Vibration Analysis Software (Lite). The rechargeable battery pack also ensures your vibration meter is ready and waiting whenever you need it. Built to be tough, in a small and rugged case, the Vexo H Hand-Arm Vibration Meter can be used anywhere and effectively measure vibration exposure to ensure HAVS doesn't become a problem with your workforce.
SKU: ga2006-16
HIRE DURATION
PRICE per week
Technical Specs

Tri-axial vibration meter
Fully compliant with ISO 8041 : 2001
Large dynamic range
Re-chargeable battery pack and charger
Large 'Flash' memory
Rugged accelerometer and cable
Large colour display
Only 3 buttons for simple use

Castle

Castle Group Ltd is a multi faceted company specialising in equipment and knowledge within the health and safety sector.

Delivery & Collection Information

We use next day couriers to deliver all our test instruments.  That means it doesn't matter if you're 2 or 200 miles away, we can have the test equipment you need, delivered first thing, next day.

When you have finished with the test equipment we can arrange for the same courier to collect it from you.

We also offer a same day delivery service for when you really need the test equipment urgently.