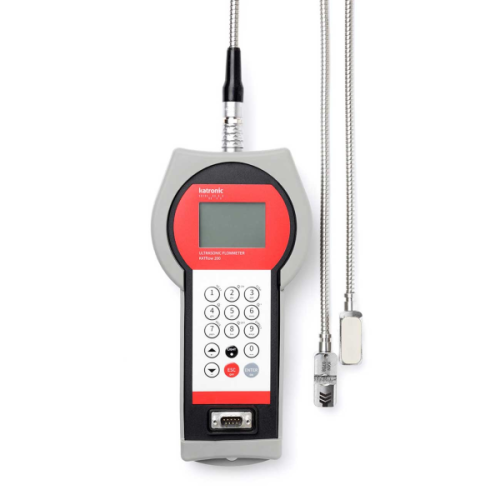 Katronic Katflow KF200
For Hire the KATflow KF200 clamp-on flow meters work on the transit time ultrasonic principle. This, put simply, involves sending and receiving ultrasonic pulses from a pair of sensors and examining the time difference in the signal. This is a more direct method of determining flow rates than some other systems and provides reliable measurements.
Ultrasonic transducers are mounted on the external surface of the pipe and are used to generate pulses which are passed through the pipe. The flowing liquid within causes time differences in the ultrasonic signals, which are then evaluated by the flow meter to produce an accurate flow measurement.
The key principle of the method applied is that sound waves travelling with the flow will move faster than those travelling against it. The difference in the transit time of these signals is directly proportional to the flow velocity of the liquid and consequently the volumetric flow rate.
Whilst elements such as flow profile, type of liquid and pipe material could have an effect on the measurement, the electronics of the flow meter compensate for and adapt to changes in the
medium in order to provide reliable measurements.
SKU: KFlow200-19
HIRE DURATION
PRICE per week
Technical Specs

Pipe diameters: 10 mm to over 3,000 mm (3 m)
For pure, clean, dirty and aerated liquids
Temperatures: -30 °C to +200 °C
Bi-directional flow measurement
Accuracy: ±0.5 % (velocity)
Calibration Certificate

Katronic

About Katronic
Established in 1996, Katronic Technologies have become highly specialised manufacturers and suppliers of ultrasonic clamp-on flow meters and contactless level measurement equipment.

With our non-invasive process measurement instrumentation we have been helping leading companies from a wide range of industries to become more efficient and eco-friendly.

What we do

By utilising ultrasound to determine the physical properties of fluids our instruments are not only capable of measuring the flow, but
also the level, concentration and density of liquids and liquefied gases.

With ultrasonic flow measurement at the core of our business, we develop and manufacture portable and fixed installation clamp-on flowmeters, which feature high quality production standards and performance characteristics.

Our values

At the same time we believe that measuring flow with Katronic ultrasonic clamp-on flow meters should be quick, easy and straightforward.

We have therefore equipped every KATflow clamp-on flow meter with an intuitive menu, instrument setup wizard and the unique Audible Sensor Positioning Assistant, which make the
use of clamp-on ultrasonic flow meters easier than ever
before.

Delivery & Collection Information

We use next day couriers to deliver all our test instruments.  That means it doesn't matter if you're 2 or 200 miles away, we can have the test equipment you need, delivered first thing, next day.

When you have finished with the test equipment we can arrange for the same courier to collect it from you.

We also offer a same day delivery service for when you really need the test equipment urgently.