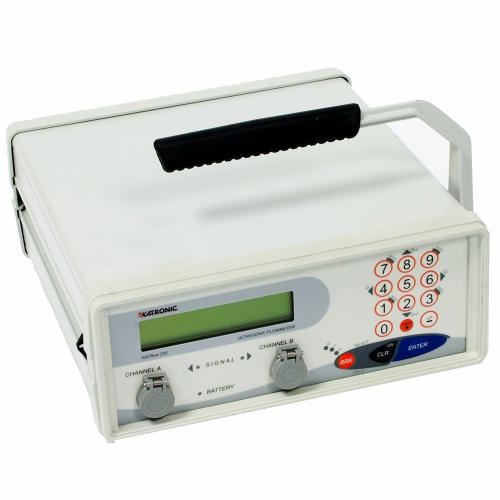 Katronic Katflow 220
Portable Ultrasonic Flowmeter for hire
• Easy to install and program • Large pipe diameter range 6 mm … 6,500 mm • Dual flow measurement channels as standard • Flowmeters for applications up to 300 °C • Rugged flowmeter enclosure and sensor manufacture • Suitable for all commonly used pipe materials
The KF220 portable clamp-on meter is an instrument truly designed for purpose. In recent years, the KF220 has gained an excellent reputation as a product that will provide a flow measurement even when other ultrasonic instruments have failed. It is robust, rugged, and reliable and has a large datalogging capacity.
The flowmeter can be equipped with numerous options in order to meet even the most demanding specification. The flowmeter has capacity for two flow inputs, up to four process inputs such as PT100 temperature sensors for energy metering and an integrated wall thickness gauge.
The ultrasonic sensors used with the portable instrument are fully autodetected and interchangeable. They can cover a huge range of pipe sizes from 6 mm to 6,500 mm. As all the sensors are manufactured from stainless steel plus the cables are reinforced with stainless steel conduit, there is little chance of damage caused by the rigours of industrial applications on which they are used.
Applications • Pump testing and inspection • Energy surveys • CIP system testing • Deluge and extinguisher system testing • WFI and clean room applications
SKU: KAT220-19
HIRE DURATION
PRICE per week
Technical Specs

Accurate flow measurement of liquid in pipes
Truly portable coming in its own small transit case
Simple and quick set up
Easy to install clamp-on sensors with no process interruption
Calibration Certificate

Katronic

About Katronic
Established in 1996, Katronic Technologies have become highly specialised manufacturers and suppliers of ultrasonic clamp-on flow meters and contactless level measurement equipment.

With our non-invasive process measurement instrumentation we have been helping leading companies from a wide range of industries to become more efficient and eco-friendly.

What we do

By utilising ultrasound to determine the physical properties of fluids our instruments are not only capable of measuring the flow, but
also the level, concentration and density of liquids and liquefied gases.

With ultrasonic flow measurement at the core of our business, we develop and manufacture portable and fixed installation clamp-on flowmeters, which feature high quality production standards and performance characteristics.

Our values

At the same time we believe that measuring flow with Katronic ultrasonic clamp-on flow meters should be quick, easy and straightforward.

We have therefore equipped every KATflow clamp-on flow meter with an intuitive menu, instrument setup wizard and the unique Audible Sensor Positioning Assistant, which make the
use of clamp-on ultrasonic flow meters easier than ever
before.

Delivery & Collection Information

We use next day couriers to deliver all our test instruments.  That means it doesn't matter if you're 2 or 200 miles away, we can have the test equipment you need, delivered first thing, next day.

When you have finished with the test equipment we can arrange for the same courier to collect it from you.

We also offer a same day delivery service for when you really need the test equipment urgently.