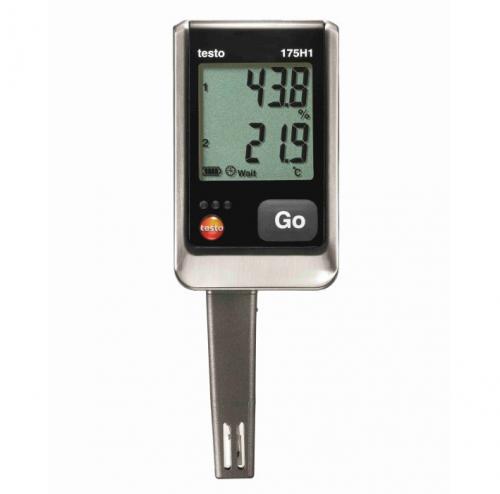 Testo 175 H1
Testo 175 H1 – 2-channel data logger for hire is a 2-channel temperature and humidity data logger with external humidity sensor.
With its long-term stable humidity sensor, the testo 175 H1 is the professional data logger for the monitoring of temperature and relative humidity in work and storage rooms. The external probe (stump) stands out thanks to faster reaction times in comparison to probes installed inside the housing. Energy savings are an important topic for buildings. However, better external insulation and new, energy-efficient windows can also have undesired side-effects. With the targeted reduction of "natural" ventilation, more heat is retained in the building on the one hand, but on the other hand also more humidity, caused, for example, by the inhabitants. In badly ventilated places there is therefore the danger of mould growth. The testo 175 H1 continuously records temperature and humidity values and shows the dewpoint in the display. The indoor climate is thus monitored, emphasizing the need for targeted ventilation and air exchange.
SKU: t175h1-16
HIRE DURATION
PRICE per week
Technical Specs

Memory 1000000 readings
Operating temperature -20 to +55 °C
Dimensions 149 x 53 x 27 mm
Probe – NTC Meas. range -20 to +55 °C
Accuracy ±0.4 °C (-20 to +55 °C)
Resolution 0.1 °C

Testo

Testo Limited was established in 1983 as the UK subsidiary of testo AG and is based in Alton, Hampshire where we sell the full range of test equipment across the UK and Ireland, both direct and through distributors.

We are a key supplier to the Facility Management and Industrial Maintenance Sectors where we are able to provide the full range of instruments which are critical to the effective and efficient maintenance of premises, and allow compliance with all key regulations.

Testo Limited Products:
We have an unrivalled range of test equipment which is divided into 3 sections:

Gas Analysis – Measuring instruments that analyse the different flue gas parameters of heating systems or industrial burners, thus helping adjust them to be more environmentally-friendly.
Hand Held Instruments – Portable instruments to measure temperature, humidity, air flow, pressure, pH values, conductivity, illumination levels, sound level, water activity, and instruments for adjusting refrigeration systems.
Infrared and Thermography – Non-contact instruments for measuring temperature. These instruments record the infrared radiation being emitted by an object (thermal radiation) and display this either as an individual value or thermal image.

Testo Limited Industries:
Air Conditioning Installation and Maintenance
Building Maintenance, Surveying and Energy Management
Electrical Inspections and Engineering
Energy and Utilities
Facility Management
Food Manufacture, Production, Transport and Storage
Heating Installation and Maintenance
Manufacturing
Refrigeration Installation and Maintenance
Ventilation Installation and Maintenance
This is all supported by our UKAS (ISO/IEC 17025:2005) accredited laboratory where we can calibrate a wide range of instrumentation, from numerous manufacturers, and manage equipment inventories of varying quantities along with offering fixed term contracts with fast turnaround times. We are able to serve customers throughout the UK and offer a pickup/delivery service in conjunction with our logistics partner UPS, and for customers local to our office in Alton we are able to offer a drop/collect service.

Customer service is a cornerstone of our business management and we have introduced a number of innovative solutions over the last 2 years to improve our speed of delivery and customer communications across product supply, calibration and service. This is a continual process and we are always looking for ways we can improve our performance with further plans for 2015.
Testo AG Headquarters
Testo AG, with its headquarters in Lenzkirch in the Black Forest, is a global leader in the field of portable measurement technology. Worldwide there is approximately 2,450 staff involved in research, production and marketing, with the key objective of developing innovative measurement solutions for our customers, e.g. in the fields of air conditioning and ventilation, food quality, building technology and emission control.

With 30 subsidiary companies and over 80 distribution partners, Testo AG is represented on all five continents, and is a true global manufacturer.

In 2012 Testo AG achieved a turnover of 221 million Euros. The basis for this success was, in addition to the highly qualified and motivated staff, the above average investment in future oriented product development. Approximately 10 percent of the company's annual worldwide turnover is spent on Research & Development to provide a sustainable and success-oriented step towards the future.

Delivery & Collection Information

We use next day couriers to deliver all our test instruments.  That means it doesn't matter if you're 2 or 200 miles away, we can have the test equipment you need, delivered first thing, next day.

When you have finished with the test equipment we can arrange for the same courier to collect it from you.

We also offer a same day delivery service for when you really need the test equipment urgently.