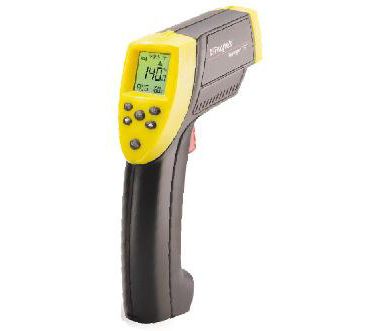 Raytek ST60 – Temperature Gun
The Raytek Raynger ST60  infrared thermometer for hire has a temperature range of -25 to 1100°F (-32 to 600°C). At only 320g (11 oz), the Raytek Raynger ST60 has a response time of 500msec (95% of reading). This infrared thermometer's simple operation sequence of point, shoot, and read is what makes gathering temperature data easier than ever.
Suited to the most demanding applications, the Raytek Raynger ST60 Pro Plus Infrared Thermometer includes innovative features like extra-bright single-point laser sighting, a wide temperature range, and 12-point datalogging. The unit is rugged and durable and includes a jack for an RTD temperature probe. These infrared thermometers from the Raytek Raynger ST60 Series can be tripod-mounted for hands-free operation.
SKU: rst60-16
HIRE DURATION
PRICE per week
Technical Specs

Wide temperature range
Powerful optics
12-point data logging
Max temperature display
Tripod-mountable
Includes jack for an RTD temperature probe
Calibration Certificate

Raytek

About Raytek

Our mission is to be the leading supplier of infrared, noncontact, industrial temperature measurement instruments in the world.

We strive to develop instruments that improve the productivity, reliability, and efficiency of our customer's processes and maintenance activities and, ultimately, the quality of their products and services. We use profit as a means for creating a company where people can develop and use their skills in an exciting, challenging and rewarding environment.

Founded in 1963, Raytek designs, manufactures, markets and services a complete line of infrared, noncontact temperature measurement instruments for industrial, process control and maintenance applications. In addition to our worldwide headquarters in Santa Cruz, California USA, European headquarters in Berlin, Germany and our China headquarters in Beijing, China, Raytek has regional offices around the globe and is represented by a worldwide network of authorized distributors.

In 2007, Ircon joined Raytek to offer a complete IR solution to our customers.

Raytek, Ircon and Datapaq have joined together as Fluke Process Instruments. With over a century of combined experience in developing innovative products that improve product quality and reduce waste, our team is committed to achieving new advancements that will benefit end-users and original equipment manufacturers (OEMs) around the world.

Delivery & Collection Information

We use next day couriers to deliver all our test instruments.  That means it doesn't matter if you're 2 or 200 miles away, we can have the test equipment you need, delivered first thing, next day.

When you have finished with the test equipment we can arrange for the same courier to collect it from you.

We also offer a same day delivery service for when you really need the test equipment urgently.