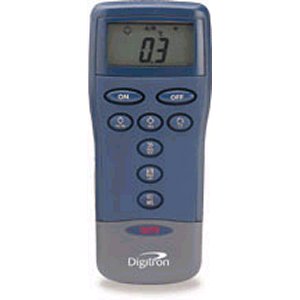 Digitron 2024T
For hire, In response to today's ever-increasing demand for speed, accuracy and performance at an affordable price, Digitron has introduced the 2000 series of hand-held digital thermometers. The 2000 Series provides precise, stable readings, even in demanding environments are simple to operate, fast reliable and built to last. Some measurements take minutes using standard thermometers due to poor thermal conductivity in the item being measured. Often a highly accurate answer is not required and an indicative answer showing that the reading is above or below a desired threshold will suffice. Digitron's unique SpeedRead>> function will offer an answer in 14 seconds or, if such a prediction cannot be made, revert back to a standard accuracy thermometer automatically
SKU: 2024T-16
HIRE DURATION
PRICE per week
Technical Specs

Pt100 Type Sensor
TCM Screw Connector
°C/°F Function
Hold Function
Range Lock
Max/Min
Averaging
-150°C to +800°C/ -238°F to +1472°F

Digitron

Digitron is a brand of Elektron Technology, a global group specialising in developing technologies within the fast-moving engineered products sector in business-to-business markets.

Digitron has been designing and manufacturing instrumentation for over 40 years and is a leading supplier of instrumentation and monitoring solutions to industries worldwide. Our extensive range of products includes simple-to-use handheld thermometers, pressure meters and dataloggers through to our state-of-the art wireless temperature monitoring solution – helping customers to meet safety requirements and manage their HACCP programme.

Digitron is part of Elektron Technology which is home to a number of world-class brands in fast-moving engineered products (FMEP). Each is focused on a specific area of development that is of fundamental importance to our customers. The resulting innovations and products offer the right levels of high-availability precision at the right price for demanding environments.

More than this, we also bring together specialists from across our brands at our Cambridge Technology Centre. It gives them the space and resources they need to deliver fresh perspectives on the challenges and opportunities our customers face. And it enables us to deliver better products to market, faster.

Delivery & Collection Information

We use next day couriers to deliver all our test instruments.  That means it doesn't matter if you're 2 or 200 miles away, we can have the test equipment you need, delivered first thing, next day.

When you have finished with the test equipment we can arrange for the same courier to collect it from you.

We also offer a same day delivery service for when you really need the test equipment urgently.