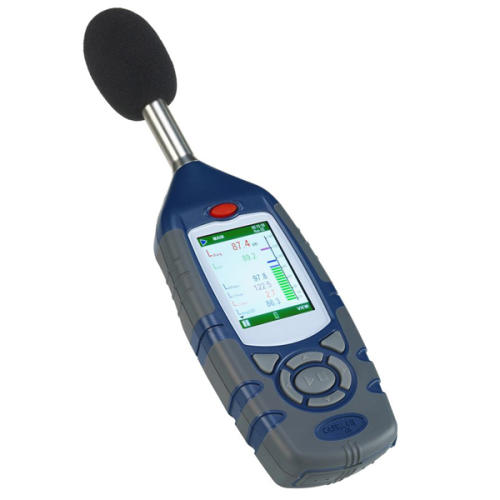 Casella Cel 621 c1 Environmental SLM
The CEL-621 further develops the success of the CEL-620 intended for the occupational user. Statictical parameters (Ln%) are now included in order to perform environmental noise assessments. Five Ln% values are simultaneously measured and the percentage values can be adjusted to particular requirements.
A choice of frequency analysis in Octave (16Hz – 16kHz) or 1/3 Octave (12.5Hz – 20kHz) is available. Analysis is performed in real-time using a single measurement range to 140dB, ensuring no range adjustments are required for either broadband or frequency based measurements.
The CEL-621's highly intuitive user interface is colour coded to make noise measurements easy making it the ideal tool for hand-held environmental noise measurements. The CEL-621 has a USB interface, where data is stored in a Microsoft Excel(TM) ready format
SKU: cel621.16
HIRE DURATION
PRICE per week
Technical Specs

Calibration Certificate

Wide dynamic range from 20 to 140 dB on single span
A, C and Z simultaneous frequency weightings
Slow, Fast and Impulse rms. time responses
Large 240 x 320 pixel color ¼ VGA graphic display
Easy to use menu structure
Integrating capability for time average values plus peak
Third octave band model
Storage of all results simultaneously in a huge non-volatile memory

Casella

Casella prides itself on providing precision instrumentation since 1799, supplying eminent figures including David Livingstone and Charles Darwin with instrumentation for their exploration and scientific work.

As you would imagine, Casella has changed significantly over these 200 plus years but remains perfectly placed to offer reliable, trust worthy and credible solutions for Occupational and Environmental monitoring of noise and dust, with over 40 years of  innovation in noise and 60 years in dust measurement.

Delivery & Collection Information

We use next day couriers to deliver all our test instruments.  That means it doesn't matter if you're 2 or 200 miles away, we can have the test equipment you need, delivered first thing, next day.

When you have finished with the test equipment we can arrange for the same courier to collect it from you.

We also offer a same day delivery service for when you really need the test equipment urgently.