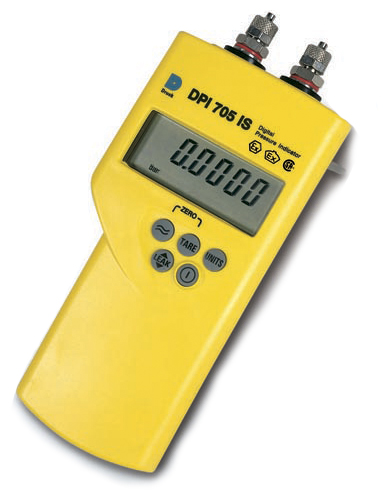 Druck DPI 705
The Druck DPI 705 Series of handheld pressure indicators combine tough and rugged design with accurate and reliable pressure measurement. New materials and technical innovations from over fifteen years experience with portable pressure testers has resulted in this advanced new product. Intrinsically safe (I.S.) versions are available certified to European and American standards for use in hazardous areas. Compact, robust and lightweight, the DPI 705 is designed for single handheld operation and provides many essential features required for routine maintenance and system troubleshooting.
The DPI 705 is ready for use anywhere, anytime… • I.S. version for hazardous areas • Impact resistant, sealed to IP54 • Clear high resolution LCD • Carry case with belt loop • Long battery life • Integral desk stand and hanger
… and improves test efficiency… • No warm up time • 16 pressure units • 1 minute leak test • Dual pressure fitting – G 1/8 and hose • Ambient temperature measurement
The calibration tools require to comply with quality assurance programs such as ISO9000 put ever increasing demands on maintenance budgets. The DPI 705, used in conjunction with pneumatic or hydraulic pressure generator, is simple, low cost solution complementing the wide range of Druck portable process calibrators.
SKU: dpi705-16
HIRE DURATION
PRICE per week
Technical Specs

Range: 0 to 20bar
Pressure units – mbar, bar, psi, mH2O, inH2O (4 and 20°C), ftH2O (4 and 20°C), inHg, mmHg, mHg, Pa hPa, Kpa, Mpa, Kgf/cm2 and optional user defined scale.
Leak test – a standard 60 second leak test.
Max/Min – captures both maximum and minimum readings.
Zero – zero pressure correction.

Druck

The Druck product name has long been associated with precision pressure sensors and related test / calibration instruments. Druck's product range includes relatively low cost OEM devices to very high accuracy resonant silicon barometric sensors measuring pressures from less than 0.015 psi to 15,000 psi.

Druck's range of portable field calibrators coupled with supporting software extends from basic instruments to some of the most accurate and intelligent pressure and temperature calibrators in the world.

Druck is part of the GE Sensing division.

Delivery & Collection Information

We use next day couriers to deliver all our test instruments.  That means it doesn't matter if you're 2 or 200 miles away, we can have the test equipment you need, delivered first thing, next day.

When you have finished with the test equipment we can arrange for the same courier to collect it from you.

We also offer a same day delivery service for when you really need the test equipment urgently.