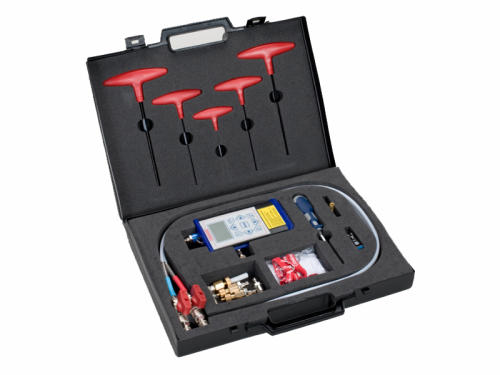 Comdronic AC6
The Comdronic AC6 meter is an electronic manometer programmed to carry out differential pressure measurements primarily on balancing valves within the HVAC industry. The state of the art software and extensive database of the world's balancing valves allows direct reading of flow, differential pressure, percentage of design flow and target flow.
The nine button design allows simple navigation of the easy to follow menu system with all parameters visible on screen.
System accuracy is by the use of carefully selected sensors protected by DSP Technology with resolution and accuracy most appropriate to the range of differential pressures being measured.
The use of sophisticated electronics and highly successful mechanics removes the need for cumbersome 'water boxes'with their poisonous and inconvenient fillings. Pressure differential ranges are more suited to modern systems with higher differentials being measured across Diff controllers and some automatic balancing valves. Combining this with a database of over 3500 balancing valves from 60+ manufacturers the AC6 is the obvious choice for the modern commissioning engineer.
SKU: comAC6-16
HIRE DURATION
PRICE per week
Technical Specs

Range 0.5-10 kPa: Accuracy +/-0.1 kPa
Range 10-200 kPa: Accuracy +/-1.0% reading
Maximum Static Pressure: 10 Bar
Differential Pressure Units: Pa, kPa, psi, bar, feet H2O, Inches H2O, mtrs H2O, mm H2O, cm H2O.
Flow Units: l/s, l/m, l/h, galls/m (imperial), gpm (US).
Calibration Certificate

Comdronic

Comdronic Ltd is a wholly-owned UK Limited company specialising in the design, manufacture, test and calibration of water manometers for the HVAC industry. As well as manufacturing and supplying manometers, we provide our customers with a high level of service to ensure that they have access to timely repair and calibration facilities. We are also very happy to help with some of the more obscure tasks such as identifying old and obsolete balancing valves and providing measuring data from our extensive valve database.

Delivery & Collection Information

We use next day couriers to deliver all our test instruments.  That means it doesn't matter if you're 2 or 200 miles away, we can have the test equipment you need, delivered first thing, next day.

When you have finished with the test equipment we can arrange for the same courier to collect it from you.

We also offer a same day delivery service for when you really need the test equipment urgently.