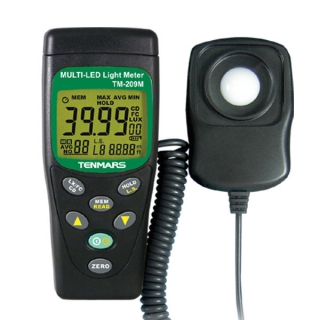 Tenmars TM-209M LED Lux Meter
For Hire, the Tenmars TM209 LED Light Meter is capable of measuring LED light levels up to 400,000 LUX or 40,000 Foot Candles.
As LED's popularity increases especially as a safe, low cost, environmentally friendly light source an environmental surveyor will certainly see the real need to measure and maintain installed lights of this type.
The TM-209 not only measures LED's but can data hold and store up to 99 results which can be recalled whenever the engineer chooses. This combined with its Min, Max and Average hold feature and external light sensor makes it a versatile light meter.
To increase the accuracy of the light device Tenmars have ensured it has a corrected LED day white light spectrum and is cosine angular corrected.
With the meter being close to CIE luminous spectral efficiency the product is perfect for individuals working on environmental surveys or simply wanting to monitor LED light levels in a workplace.
Environmental engineers will be safe in the knowledge that the Tenmars TM-209 LED Light Meter conforms to JISC 1609:1993 and CNS 5119 general 'A' class specifications.
SKU:
HIRE DURATION
PRICE per week
Technical Specs

Lux 40, 400, 4,000, 40,000, 400,000
Foot-candle 40, 400, 4,000, 40,000,

Delivery & Collection Information

We use next day couriers to deliver all our test instruments.  That means it doesn't matter if you're 2 or 200 miles away, we can have the test equipment you need, delivered first thing, next day.

When you have finished with the test equipment we can arrange for the same courier to collect it from you.

We also offer a same day delivery service for when you really need the test equipment urgently.