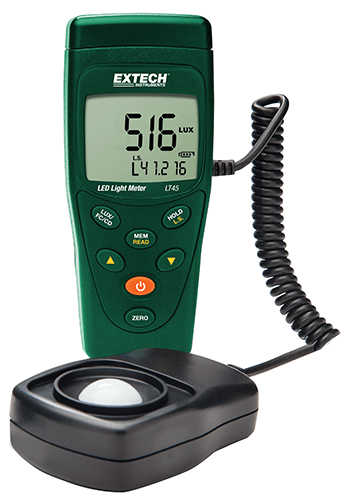 Extech 45 Lux Meter
Measure the Illuminance of White and Color LED Lights as well as 'normal' light.
For hire, the LT45 LED light meter is useful for measuring and optimizing environmental light levels in a wide range of environments, including office buildings, manufacturing plants and warehouses, university campuses, schools, hospitals, and many other locations. OSHA regulates workplace lighting because illumination must be adequate for assigned tasks, and light meters are used to verify regulatory compliance, as well as state and local public safety codes and ordinances. Use of LED lighting is on the rise because it is more efficient to operate, it emits stable, high quality illumination, and the technology is dropping in price. The LT45 comes with a 9-volt battery, protective sensor cover, hard case, and user manual.
SKU:
HIRE DURATION
PRICE per week
Technical Specs

Measure White, Red, Yellow, Green, Blue, and Purple LED and Standard Lighting in Lux or Foot-Candle (Fc) units
Manually store/recall up to 99 readings
4000 count LCD display
Cosine and color corrected measurements
Min/Max Average and Auto Power Off

Extech

Extech Instruments

Fast Facts

• Incorporated in 1970
• Acquired by FLIR Systems in November 2007
• Headquartered in Nashua, New Hampshire, USA
• Selling globally through distribution, Extech is the go-to source for:
• 15 categories of test and measurement instruments
• Thermal imaging cameras
• Portable printers
• Employs over 100 personnel worldwide
• International design, manufacturing and warehousing facilities located in Taiwan, Hong Kong
• ISO 9001:2008 certified by TUV
• Known for the Extech Advantage™: Innovation, Selection, and Support

Extech History

Incorporated in 1970, Extech Instruments is based in Nashua, New Hampshire USA, just north-west of Boston. Recognized for the breadth and depth of its Test & Measurement offering and strong distribution network, Extech was acquired by FLIR Systemsin November 2007. Extech Instruments' high-value, handheld test instruments and FLIR-branded infrared thermal imager are sold through a network of national catalog houses, regional stocking distributors, internet, and international master distributors. The company has become one of the largest manufacturers and suppliers of test equipment and portable printers and the Extech Instruments brand is regarded in many industries as the brand of choice. ISO 9001:2008 certified by TUV, Extech's enviable reputation is built on innovative products that offer unique and patented designs with features, functions and reliability at an affordable price.

Test & Measurement Instruments

The Extech Instruments Division is a manufacturer and supplier of 15 major product categories of technically advanced, portable meters including multimeters, clamp meters, electrical testers, and environmental meters for the measurement of light, sound, temperature, humidity, airflow, RPMs, and water quality. The company has a strong presence in the electrical, HVACR, construction, manufacturing, plant/MRO, process and automation, environmental, electronics/testing, and field service/maintenance sectors worldwide.

Delivery & Collection Information

We use next day couriers to deliver all our test instruments.  That means it doesn't matter if you're 2 or 200 miles away, we can have the test equipment you need, delivered first thing, next day.

When you have finished with the test equipment we can arrange for the same courier to collect it from you.

We also offer a same day delivery service for when you really need the test equipment urgently.