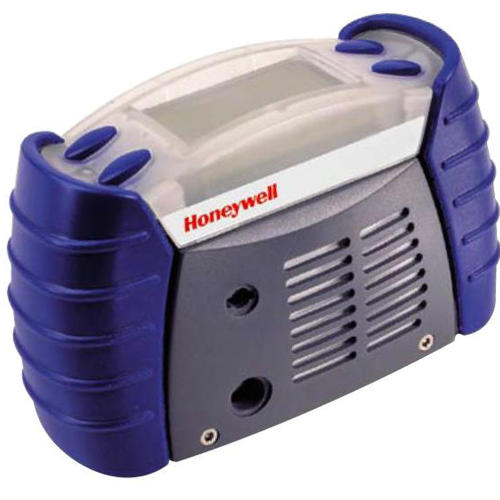 Honeywell Neotronics Impact 4 Gas Safety Meter
The Neotronics Impact range of portable gas detectors are able to monitor and display up to four gases simultaneously.
Using high specification flammable, oxygen and patented Surecell™ toxic sensors, the unique cartridge technology ensures safe, accurate and reliable detection.
Ultra-bright alarm lights and a powerful audible alarm, coupled with a periodic green flash and bleep, provide user confidence that monitoring is always in operation and alarms are never missed. In addition, the Neotronics Impact uses a large, multi-lingual, backlit display with intuitive menu system to ease use and minimise operator training.
Neotronics by Honeywell Analytics
The Neotronics Impact is just one of the comprehensive range of gas detectors available from Honeywell Analytics (manufacturers of gas detection instrumentation under the BW Technologies, Lumidor, MDA Scientific, Neotronics, Sieger, Zareba and Zellweger brands).
Features:

Large, multi-lingual, backlit display with intuitive menu
Ultra-bright alarm lights and a powerful audible alarm
One button on/off
Built-in correction factors for monitoring a range of flammable gases (Methane, hydrogen, methanol, ethane, butane, propane, octane, pentane, ethylene*, ethanol*)
Plug in sensor cartridge can be replaced in less than a minute
IP67 rated for protection against water and dust ingress
Event logging for record keeping and printing using the datalogging kit
SKU: imp-16
HIRE DURATION
PRICE per week
Technical Specs

Oxygen (O2): 0-25% v/v
Flammable gas: 0-100% LEL
Hydrogen sulphide (H2S): 0-50ppm
Carbon monoxide (CO): 0-500ppm

Honeywell

About Honeywell Process Solutions

Honeywell Process Solutions (HPS) helps industrial customers around the world operate safe, reliable, efficient, sustainable and more profitable facilities. We offer leading technologies from the plant floor to the boardroom as well as comprehensive lifecycle services that help to ensure more productive and stable operations. A business unit of Honeywell International, HPS has pioneered process automation control for more than 40 years with a continuous evolution from legacy process control systems to today's leading innovations such as Experion® PKS, protecting our customers' investments in automation assets. With more than 12,000 employees around the world, HPS has the global expertise and breadth of resources to execute projects of every size and complexity in the oil and gas, refining, pulp and paper, industrial power generation, chemicals and petrochemicals, biofuels, life sciences, and metals, minerals and mining industries.

Delivery & Collection Information

We use next day couriers to deliver all our test instruments.  That means it doesn't matter if you're 2 or 200 miles away, we can have the test equipment you need, delivered first thing, next day.

When you have finished with the test equipment we can arrange for the same courier to collect it from you.

We also offer a same day delivery service for when you really need the test equipment urgently.