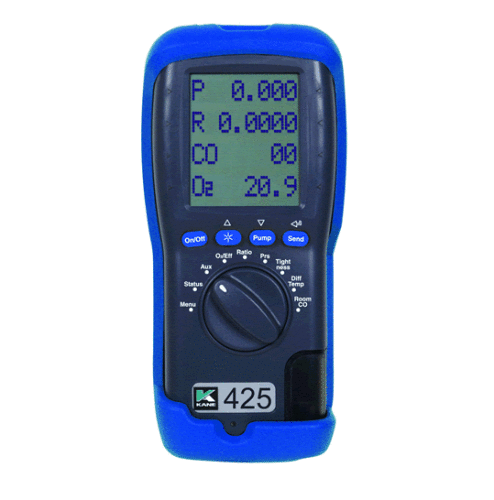 Kane 425
Designed to be 'the most user friendly 5 in 1 analyser available', the new KANE 425 combustion analyser is the perfect remedy.
A simple rotary switch enables the engineer to quickly view readings including CO/CO2 ratio, combustion, efficiency, differential pressure and differential temperature or to perform a tightness test or a room CO build-up test. On screen prompts guide the user where necessary. A plug-in gas leak detector option is also available.
Live or stored test reports can be printed using an infra-red printer or sent to a laptop or PDA via the Bluetooth option.
The outstanding feature of the Kane 425 is the high accuracy and stability of its pressure readings. Difficult tasks such as measuring flue draught or setting the differential pressure of air/fuel ratio valves can be performed with confidence.
Battery life is typically 12 hours when fitted with either alkaline or rechargeable NiMH batteries. A mains charger and a 12v in-vehicle charger are available.
Features
Four line backlit display controlled by rotary switch Protective rubber sleeve with integral magnet for 'hands free' use O2, CO, CO2, CO/CO2 ratio, temperature and efficiency readings Multi-fuel (natural gas, propane, butane, LPG, 28/35 sec oils) High accuracy differential manometer Memory facility for reports Specific reports for combustion, pressure, tightness test, temperature and room CO build-up Infra-red output to optional printer Torch light Designed to meet EN50379, BS7927, BS7967, IGE/11/UP/1B and Benchmark
Measures:
O2 CO CO2 CO/CO2 Efficiency Diff. Temp Diff. Pressure
SKU: km425-16
HIRE DURATION
PRICE per week
Technical Specs

Measures O2, CO, temperature and pressure
Calculates CO2, CO/CO2 ratio, excess air and efficiency
Multi-fuel: natural gas, propane, butane, LPG, 28//35 sec oils, wood pellets
Differential thermometer for flow / return /?T
Printer
Calibration Certificate

Kane

Since 1963, Kane International Ltd has been in Welwyn Garden City, Hertfordshire, and has a long history and broad experience designing and manufacturing portable test equipment.

Kane International is the UK's foremost manufacturer and supplier of hand-held exhaust emissions testers and portable test equipment. Kane's design, engineering and manufacturing skills have created a range of highly sought-after portable equipment meeting the highest standards of testing and conformity. Their customers range across Commercial and Domestic Heating Engineers, Automotive Technicians to Electrical Engineers.

Products are marketed under KANE's range of brands and for numerous 'private label' companies.

KANE has specific competence in:

Electrochemical sensors;
Infra-red benches;
Data logging;
Low power electronics;
Portable battery powered equipment.
KANE stocks a wide range of Alpha standard calibration gases and all our gas products are calibrated using 'live' test gases.

The KANE Service Department provides repair and Certification with traceability to National Standards. UKAS certification is also available.

Portable flue gas analysers measure the efficiency and pollution of combustion gases. Improving efficiency not only makes significant financial savings but also reduces atmospheric pollution. KANE Analysers range from single-gas pocket analysers to portable muti-gas data logging units for semi-continuous monitoring.

Delivery & Collection Information

We use next day couriers to deliver all our test instruments.  That means it doesn't matter if you're 2 or 200 miles away, we can have the test equipment you need, delivered first thing, next day.

When you have finished with the test equipment we can arrange for the same courier to collect it from you.

We also offer a same day delivery service for when you really need the test equipment urgently.