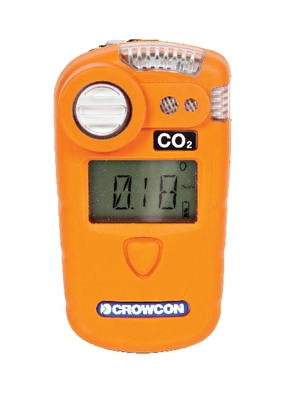 Crowcon Gasman CO2
Gasman CO2 monitor for hire,
The compact, lightweight Gasman is simple to fasten securely to clothing and can be comfortably worn for an entire 8-hour shift.
Featuring simple single button operation, it has a large easy-to-read display showing local environmental levels of carbon dioxide (CO2).
Gasman guards against the short term and long term exposure of the wearer, as well as exposure to peak levels, which require immediate evacuation. The combination of audible, visual and vibrating alarms ensures the wearer will not miss an alarm, even if wearing ear defenders.
The unit reduces the costs of ownership compared to some competitors because the IR-technology based sensor has a longer life expectancy.
The robust construction of the Gasman makes it suitable for the toughest of industrial environments. The rechargeable battery provides 3000 alarm minute capacity, plenty for an 8-hour shift.
SKU: gmanco2.16
HIRE DURATION
PRICE per week
Technical Specs

Infra-red carbon dioxide sensor
Ultra lightweight – just 85g
Display options:
Peak – highest concentration encountered
Time weighted average (TWA) – exposure over an 8-hour shift
Triple warning
Loud 95dBA audible alarm
Dual colour visual alarm, red/blue twin flashing LEDs
Vibrating alarm
Rechargeable battery

Crowcon

Delivery & Collection Information

We use next day couriers to deliver all our test instruments.  That means it doesn't matter if you're 2 or 200 miles away, we can have the test equipment you need, delivered first thing, next day.

When you have finished with the test equipment we can arrange for the same courier to collect it from you.

We also offer a same day delivery service for when you really need the test equipment urgently.