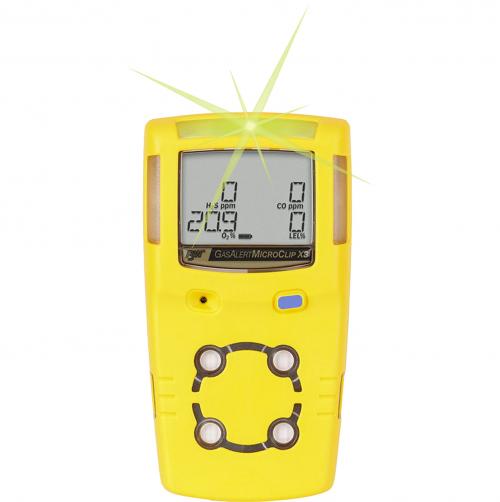 Honeywell BW™ MicroClip x3
The  Honeywell BW MicroClip Series is the world's most popular multi-gas portable detector, delivering long runtime and reliability — plus small size, low cost and the easiest user experience.
Features & Benefits:
Honeywell BW™ MicroClip X3 for extended reliability.
Guaranteed to run an entire shift — even at  -20°C.
NEW! IP68 rating — unmatched water protection.
Compact, lightweight and easy to use — with one-button operation and no extensive training.
SKU: bwx3-16
HIRE DURATION
PRICE per week
Technical Specs

O2, H2S, CO and combustibles

Battery runtime of 18 hours in normal temperatures

IP68

B&W

Baugh & Weedon is a leading manufacturer of Magnetic Particle Inspection (MPI) Benches and Liquid Penetrant Inspection (LPI) Penetrant Lines. Baugh & Weedon can also provide MT accessories including UV Lamps, dual UV and white light Inspection Lamps (Lumazon) and our dual UV and White Light Meter (LumaCheck) as well as a full range of MPI and LPI chemicals from Pfinder Chemie. You name it, we have it for all your Magnetic Particle Inspection and Liquid Penetrant Inspection needs.

Baugh & Weedon also have a wide range of Ultrasonic (UT) Thickness Gauges, EMAT Flaw Detectors, UT Flaw Detectors, Ultrasonic Wall Crawlers, Hollow Rail Axle Inspection Systems, UT Immersion Tanks, Eddy Current (ECT) Sorting Bridges, Gamma Ray and X Ray Pipeline Crawlers.

Established in 1967, Baugh & Weedon has a long history of supplying the NDT industry with high quality products and services. Based in the UK and with a wealth of industry knowledge, we strive to be client focussed at all times, working with you to find the right solution for your NDT needs.

Delivery & Collection Information

We use next day couriers to deliver all our test instruments.  That means it doesn't matter if you're 2 or 200 miles away, we can have the test equipment you need, delivered first thing, next day.

When you have finished with the test equipment we can arrange for the same courier to collect it from you.

We also offer a same day delivery service for when you really need the test equipment urgently.