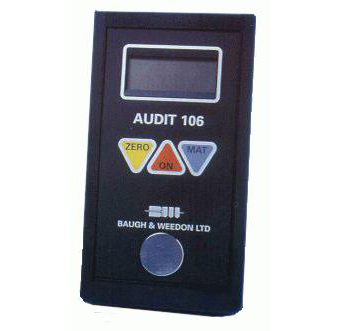 BW Audit 106
he Audit 106 is a microprocessor controlled precision instrument housed in a rigid injection moulded plastic case, with front panel membrane ensuring environmental protection to IP65
The standard DT25 probe has been designed to withstand the most arduous operating conditions and the roughest of handling
Selectable materials include: steel, stainless steel, aluminium, copper, 70/30 brass, SG iron, flake iron, perspex/nylon, PVC and polypropylene
Zero function, which maintains the integrity of the thickness measurements
?Measurement range of 1.5mm to 99.9mm in steel, with a 0.1mm resolution
Switchable metric/inch display
A built-in warning display eliminates the risk of spurious readings
Auto power off and low battery indicator
As a confidence check, a 6mm test block is mounted on the front panel to ensure correct operation of the instrument and probe
SKU: bw106-16
HIRE DURATION
PRICE per week
Technical Specs

4 digit LCD display with a range of 1.5mm to 99.9mm (in steel)
accuracy of ±0.1mm, ±1 digit or ±1%, whichever is the greater
long battery life of 100 hours continuous use on 2x AA alkaline cells
auto power off facility
weight 290g, dimensions 151x82x33mm
10 preset programmes

B&W

Baugh & Weedon is a leading manufacturer of Magnetic Particle Inspection (MPI) Benches and Liquid Penetrant Inspection (LPI) Penetrant Lines. Baugh & Weedon can also provide MT accessories including UV Lamps, dual UV and white light Inspection Lamps (Lumazon) and our dual UV and White Light Meter (LumaCheck) as well as a full range of MPI and LPI chemicals from Pfinder Chemie. You name it, we have it for all your Magnetic Particle Inspection and Liquid Penetrant Inspection needs.

Baugh & Weedon also have a wide range of Ultrasonic (UT) Thickness Gauges, EMAT Flaw Detectors, UT Flaw Detectors, Ultrasonic Wall Crawlers, Hollow Rail Axle Inspection Systems, UT Immersion Tanks, Eddy Current (ECT) Sorting Bridges, Gamma Ray and X Ray Pipeline Crawlers.

Established in 1967, Baugh & Weedon has a long history of supplying the NDT industry with high quality products and services. Based in the UK and with a wealth of industry knowledge, we strive to be client focussed at all times, working with you to find the right solution for your NDT needs.

Delivery & Collection Information

We use next day couriers to deliver all our test instruments.  That means it doesn't matter if you're 2 or 200 miles away, we can have the test equipment you need, delivered first thing, next day.

When you have finished with the test equipment we can arrange for the same courier to collect it from you.

We also offer a same day delivery service for when you really need the test equipment urgently.