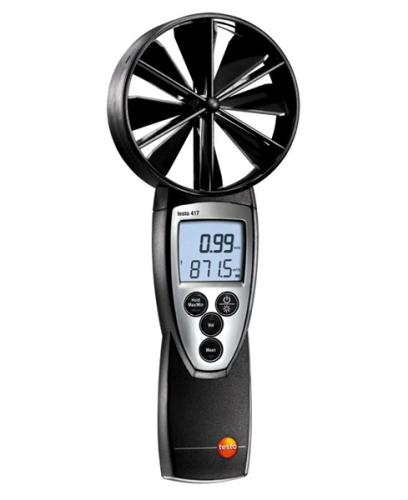 Testo 417
The Testo 417 vane anemometer has a built-in 100mm diameter flow/temperature vane to measure flow speed, volume flow and temperature. Accurate volume flow calculation due to easy input of duct area is shown directly on the display. In addition, it is easy to switch to the current temperature reading. The flow direction, i.e. drawn in or blowing, is visible in the display. Timed and multi-point mean calculation provide information on mean volume flow. Min/max values can also be shown in the display. The Hold function enables the current reading to be frozen on the display.
SKU: testo417-16
HIRE DURATION
PRICE per week
Technical Specs

Direct display of volume flow.
Flow direction recognition.
Multi-point or timed mean calculation.
Max./min. values.
Hold button to freeze readings.
Display light.
Auto Off function
Calibration Certificate

TSI

ABOUT TSI

TSI Inc. serves a global market by investigating, identifying and solving measurement problems. As an industry leader in the design and production of precision measurement instruments, TSI partners with research institutions and customers around the world to set the standard for measurements relating to aerosol science, air flow, chemical analysis, indoor air quality, fluid dynamics, biohazard detection, and even scrap metal sorting and plastics identification. With headquarters based in the U.S. and field offices throughout Europe and Asia, TSI has established a worldwide presence in the markets we serve. Every day, our dedicated employees turn research into reality.

A GLOBAL NETWORK OF EXPERTS
TSI has a worldwide presence with over 500 dedicated employees working in facilities in North America, Europe and Asia. Our corporate sales and service offices (St. Paul, Minnesota, USA; Aachen, Germany; High Wycombe, United Kingdom; Beijing, China; Shanghai, China; Singapore, and Bangalore, India) provide regional customer support. We also maintain a network of knowledgeable manufacturers' representatives and distributors to provide local support worldwide.

TSI has three wholly owned subsidiaries:

DICKEY-john® Corporation (Auburn, Illinois), a manufacturer of specialized instrumentation used in public works and agriculture.
Environmental Systems Corporation (Knoxville, Tennessee), a leading supplier of products and services for outdoor environmental monitoring.
Tekran® Instruments Corporation (Knoxville, Tennessee), a premier supplier of ambient mercury monitoring technology.
Our facilities total more than 425,000 square feet of space devoted to product development, manufacturing and customer support.

A RECORD OF INNOVATION
TSI researchers and engineers have been granted more than 50 patents and have a proven record of developing instruments that are the first, the only, and the best of their kind. Participation in societies and standards committees has long been a TSI priority. Our engineers have chaired or sat on a variety of committees, with involvement in such organizations as ASHRAE, ANSI, AIHA and AAAR*.

Delivery & Collection Information

We use next day couriers to deliver all our test instruments.  That means it doesn't matter if you're 2 or 200 miles away, we can have the test equipment you need, delivered first thing, next day.

When you have finished with the test equipment we can arrange for the same courier to collect it from you.

We also offer a same day delivery service for when you really need the test equipment urgently.