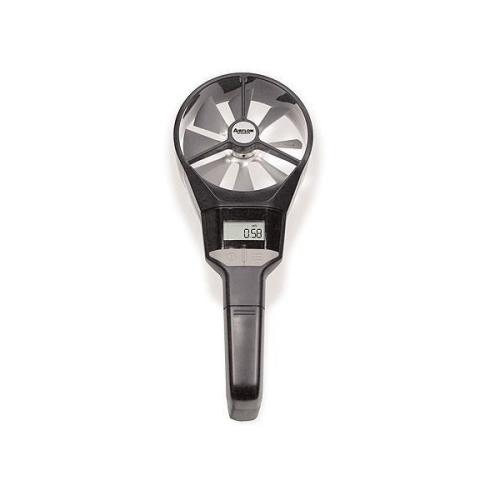 Airflow LCA301
The Airflow™ Instruments Rotating Vanes LCA301 is a light weight, robust, and simple to use rotating vane anemometer that provides accurate and reliable readings every time. Ideal for HVAC commissioning at grilles, ducts, and diffusers, the LCA301 displays readings in metric or imperial mode.
SKU: LCA301-16
HIRE DURATION
PRICE per week
Technical Specs

Reversible 100 mm head allows readings at supply and extract grilles
Calculates volumetric flow rate
Compatible with Aircone Flow Hoods
Automatic averaging of air velocity

Airflow

ABOUT TSI Airflow

TSI Inc. serves a global market by investigating, identifying and solving measurement problems. As an industry leader in the design and production of precision measurement instruments, TSI partners with research institutions and customers around the world to set the standard for measurements relating to aerosol science, air flow, chemical analysis, indoor air quality, fluid dynamics, biohazard detection, and even scrap metal sorting and plastics identification. With headquarters based in the U.S. and field offices throughout Europe and Asia, TSI has established a worldwide presence in the markets we serve. Every day, our dedicated employees turn research into reality.

Delivery & Collection Information

We use next day couriers to deliver all our test instruments.  That means it doesn't matter if you're 2 or 200 miles away, we can have the test equipment you need, delivered first thing, next day.

When you have finished with the test equipment we can arrange for the same courier to collect it from you.

We also offer a same day delivery service for when you really need the test equipment urgently.