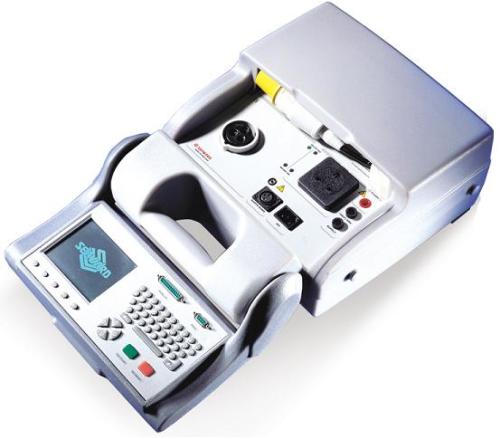 Seaward Supernova Plus
There is no denying it this is the most comprehensive, useful PAT tester on the market bar none. If you need to do a test rest assured the Supernova Plus PAT tester can do it, including flash testing and full dual voltage capability.
This is a sophisticated PAT tester is packed full of fantastically useful features, such as 5000 test record memory, sites, locations, user, test status and date. It links to a PC and has a modem for remote transfer of information. The PAT Tester has connections for a barcode reader, braincell RFID scanner, and printer, as well as a parallel printer port. Barcode labels are generated via an optional thermal printer.
For ease of use, there is a large LCD graphics display, with legible, walk through instructions for each test facility. Downloading vital information is fantastically fast and asset management is supported with three software options. All this in a rugged enclose too. This PAT tester has it all.
Key Features
* Any appliance, any test A full and comprehensive set of tests, together with full dual voltage and flash test capacity, means you can do any test there and then. * Walk through instructions Good news. You don't have to be a brain surgeon to operate it. The large, easy to read display will walk you through any test procedure with ease. * Connectivity? No problem As you might expect, the Supernova Plus has ports and plugs galore. PC,barcode reader, braincell RFID scanner and printer connections are all taken care of. * Superfast Download No waiting for information to download. Thanks to the incredible download ability of the Supernova Plus, the wait is over before it has barely started.
SKU: ssuper-17
HIRE DURATION
PRICE per week
Technical Specs

Duel Votage
Earth Continuity
Insulation Resistance
Flash Test
Calibration Certificate

Seaward

About Seaward

Established over 30 years ago, Seaward Electronic based in Co. Durham, England is the market leader in the field of electrical safety test instrumentation.

The company provides total test solutions to enable companies and organisations to comply with the demands of all types of electrical safety legislation including portable appliance testing, installation, medical, and machinery testing.

Seaward is renowned for its commitment to continuous product development, innovation, and is the global market leaders in portable appliance test instruments (PATS) and associated accessories such as PAT software. The company is dedicated to setting higher standards of quality and performance.

Seaward recognise the needs of test professionals and understands the practical requirements of today's testing. The companies reputation has been built on developing innovative yet practical solutions.

Seaward has an extensive distribution network in the UK, and is represented worldwide across 30 countries. As part of the Seaward Group, Seaward Electronic enjoys success alongside the Group's other brands, Cropico – Precision Measurement, Rigel Medical – Biomedical Engineering products, Clare Instruments – electrical compliance test equipment for Manufacturers and Hire companies and Seaward Group USA – US Distributor for the Group, in Florida, USA.

Seaward is also a member of GAMBICA and it's associated B2B Compliance program which operates alongside the WEEE directive.

Delivery & Collection Information

We use next day couriers to deliver all our test instruments.  That means it doesn't matter if you're 2 or 200 miles away, we can have the test equipment you need, delivered first thing, next day.

When you have finished with the test equipment we can arrange for the same courier to collect it from you.

We also offer a same day delivery service for when you really need the test equipment urgently.