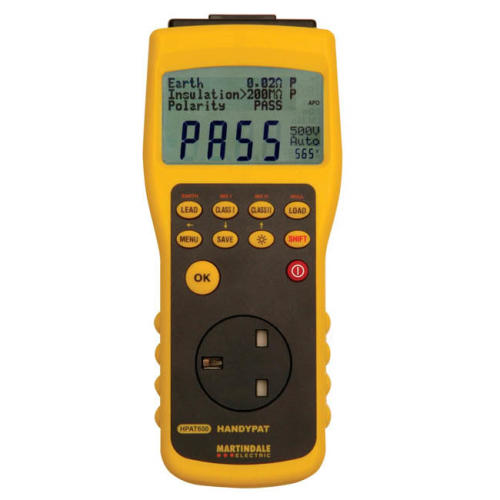 Martindale HPAT600 – Battery Powered PAT Tester
One of the best features of this portable appliance tester is the selectable dual voltage for the insulation test. Like all PAT testers it has a 500V test but it also has a 250V test that is easily selectable by the user. This is very useful as more and more products are being fitted with mains filters, designed to stop mains spikes, and they will fail the 500V insulation test because of this. Some extension leads with these filters are now labelled to indicate they will fail a normal PAT test but with the HPAT600 you just change the range to 250V and carry out the test as normal.
Users can also set their own pass thresholds for all tests, which is great for testing appliances that have very long leads or long extension leads. The HPAT600 is also supplied with a mains charger, in-car charger and TL157 extension lead adaptor.
Each HPAT600 is supplied with earth bond probe and croc clip, rechargeable NiMH batteries, extension lead adaptor, mains battery charger, soft carry case, instruction manual and calibration certificate.
SKU: hpat600-16
HIRE DURATION
PRICE per week
Technical Specs

Earth Bond Test (IT Safe)
Insulation Resistance
IEC & Extension Lead Test
Fuse Test
Simulated Load Test
Calibration Certificate

Martindale

Martindale Electric, founded in 1928, also owns the Edgcumbe Instruments Metrohm® products, as well as the John Drummond Engineers range of test lamps. We are a British owned company, based in Watford, just 5 minutes from junction 5 of the M1.
Our product range helps electricians and maintenance engineers carry out portable appliance testing, check fixed wiring for 17th Edition and Part P testing, safely prove dead, and measure everything from light and sound levels to microwave leakage and power consumption.

Delivery & Collection Information

We use next day couriers to deliver all our test instruments.  That means it doesn't matter if you're 2 or 200 miles away, we can have the test equipment you need, delivered first thing, next day.

When you have finished with the test equipment we can arrange for the same courier to collect it from you.

We also offer a same day delivery service for when you really need the test equipment urgently.