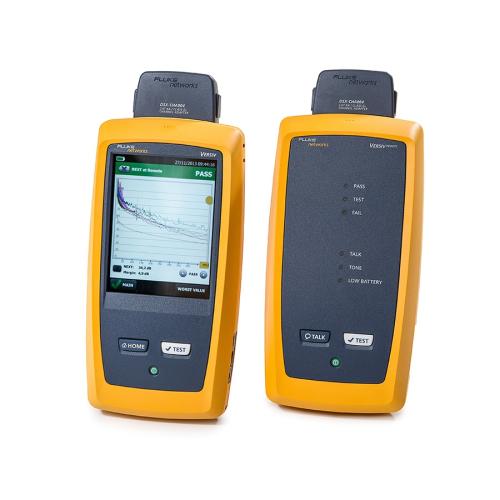 Fluke DSX-5000
The DSX-5000 CableAnalyzer improves the efficiency of copper certification with unmatched speed for testing Cat 6A and Class FA while meeting darft IEC Level V – the most stringent accuracy requirement. The ProjX Management System helps ensure jobs are done correctly the first time and helps tracks progress from set-up to systems acceptance. Versiv platform supports modules for fiber testing (Both OLTS and OTDR) and Wi-Fi Analysis and Ethernet troubleshooting. The platform is easily upgradeable to support future standards. Troubleshoot faults faster with the Taptive user interface which graphically displays the source of failures including crosstalk, return loss and shield faults.
SKU: dsx5000.18
HIRE DURATION
PRICE per week
Technical Specs

Unmatched speed for CAT 6A, Class FA and all current standards
ProjX™ System manages job requirements and progress from setup to systems acceptance, making sure all tests are completed correctly
Taptive™ user interface simplifies set up, and eliminates errors.
Analyse test results and create professional test reports using LinkWare™ management software
Graphically displays the source of failures including crosstalk, return loss and shield faults for faster troubleshooting
Meets IEC Level V – the most stringent accuracy requirement
Endorsed by cabling vendors worldwide
Built in Alien Crosstalk testing

Fluke

Fluke United Kingdom is a subsidiary of Fluke Corporation in Everett, Washington.
Fluke Corporation is the world leader in the manufacture, distribution and service of electronic test tools and software.
Since its founding in 1948, Fluke has helped define and grow a unique technology market, providing testing and troubleshooting capabilities that have grown to mission critical status in manufacturing and service industries. Every new manufacturing plant, office, hospital, or facility built today represents another potential customer for Fluke products.
From industrial electronic installation, maintenance and service, to precision measurement and quality control, Fluke tools help keep business and industry around the globe up and running. Typical customers and users include technicians, engineers, metrologists, medical-device manufacturers, and computer network professionals — people who stake their reputations on their tools, and use tools to help extend their personal power and abilities.
Fluke has achieved the number one or number two position in every market in which it competes. The Fluke brand has a reputation for portability, ruggedness, safety, ease of use and rigid standards of quality.

Delivery & Collection Information

We use next day couriers to deliver all our test instruments.  That means it doesn't matter if you're 2 or 200 miles away, we can have the test equipment you need, delivered first thing, next day.

When you have finished with the test equipment we can arrange for the same courier to collect it from you.

We also offer a same day delivery service for when you really need the test equipment urgently.