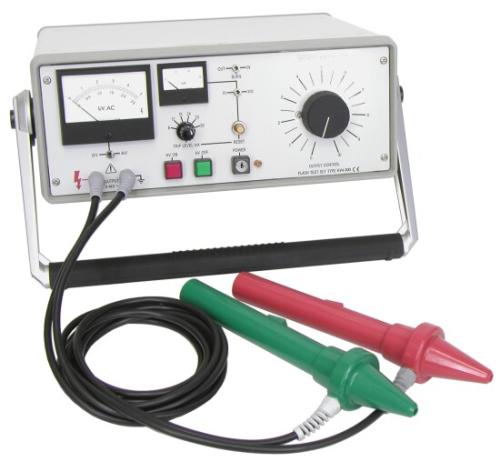 T&R KV5-100
The KV5-100 high voltage test set is a general purpose test instrument designed for testing insulation systems and the measurement of breakdown voltage on electrical plant and components.
The unit has an output voltage adjustable from zero to 5kV with accurate metering on both the output voltage and current. A zero-voltage interlock is provided, ensuring that the output may only be energised with the voltage control at zero.
The output voltage is metered by a large, linear analogue instrument with a dual-scale marking of 0-3kV and 0-6kV. Load current is metered by a second analogue instrument with 0-10 scale marking. Two current ranges are selectable: 0-10mA and 0-100mA.
The test object and output are protected by an adjustable current trip linked to the current metering range. The trip level may be set to 20-120% of the current metering range on 20% steps.
Breakdown of the test object is both audibly and visibly indicated. The alarm must be manually reset after a trip condition before testing can be resumed.
The instrument is supplied in a compact and portable case with permanently connected test leads. The test leads are terminated in crocodile clips. The unit is designed to be used in conjunction with an interlocked test enclosure.
SKU: trkv5.100-19
HIRE DURATION
PRICE per week
Technical Specs

Continuously variable output voltage 0-5kVac.
Variable trip circuit.
12mA and 20-120mA.
Output voltage and current metering.
Visual and audible indication of test piece failure.
Compact lightweight instrument.
Burn feature giving 100mA maximum current on short circuit.
Key operated switch preventing unauthorised operation.
Complies with the testing requirements of BS1363.

T&R

T & R Test Equipment Ltd. is a member of the T & R group of companies which design and manufacture a wide range of products, including electrical test equipment, power transformers, specialist transformers and power rectifiers.

The group includes:

Transformers & Rectifiers

Delivery & Collection Information

We use next day couriers to deliver all our test instruments.  That means it doesn't matter if you're 2 or 200 miles away, we can have the test equipment you need, delivered first thing, next day.

When you have finished with the test equipment we can arrange for the same courier to collect it from you.

We also offer a same day delivery service for when you really need the test equipment urgently.