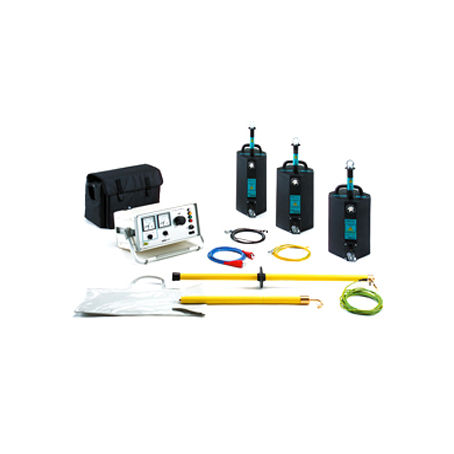 Hagenuk Seba 110KV DC
The SebaKMT HV Test Set is a cable tester for DC voltage testing of cables and cable installations in accordance with the international standards. It consists of an operation unit and HV unit. Due to its small size and low weight the test sets can easily be transported and used on-site.
The Hagenuk 110 kV HV DC Test can be used to test newly installed cables, periodical cable testing and preventative checks after cable repairs.
The Seba 110 kV HV DC Test Set consists of 2 separate units, a control unit and a high voltage unit. This allows the user to perform high voltage tests with a portable instrument. Over current trip at just above 6 milliamps.
SKU: seba110-Q
HIRE DURATION
PRICE per week
Technical Specs

DC output voltage: 110V DC
Output current max: 4mA
Current Measuring Range: 0.1 mA / 1 mA / 10 mA

Hagenuk Seba

Seba KMT Founded in 1951 as a commercial agency for industrial installations, Dr Herbert Iann soon expanded his enterprise by producing and developing measurement equipment for locating leaks in drinking water distribution networks.

At the end of the 1960s, devices for line location were added to the product portfolio, in the 1970s, fault location equipment for power cables. In the 1980s, fault location devices for telecommunications cables followed.

1971 saw the delivery of the first fully-equipped van for testing power cables. 1996 marked the 1000th van and only four years later the 1500th (from Baunach).

After the death of the company founder, Dr Herbert Iann, in 1995 his son and daughter, Max (Dr) and Adriane, took over the management of the company. That same year, Seba Dynatronic took over its main competitor, Hagenuk KMT Kabelmesstechnik GmbH, with its production site in Radeburg near Dresden. The joint sales organisation, SebaKMT, commenced business operations in 2000. The company group, which includes a further 15 subsidiaries in Germany and abroad, has active representation in over 130 countries.

Delivery & Collection Information

We use next day couriers to deliver all our test instruments.  That means it doesn't matter if you're 2 or 200 miles away, we can have the test equipment you need, delivered first thing, next day.

When you have finished with the test equipment we can arrange for the same courier to collect it from you.

We also offer a same day delivery service for when you really need the test equipment urgently.