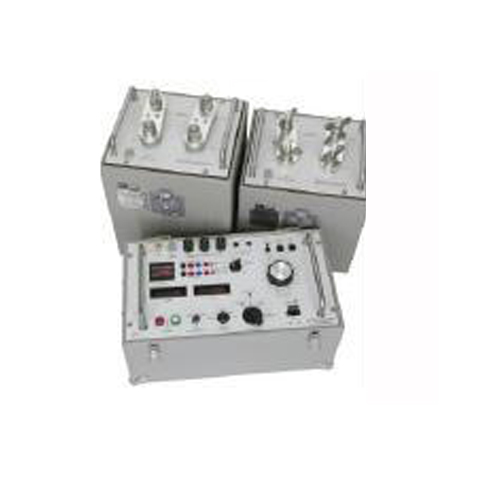 T&R PCITS 3000
The PCU1/E Mk5 PCITS 3000 primary current injection test set is ideally suited to commissioning and maintenance testing where high currents up to 3000A are required. The system consists of separate control and loading units for maximum flexibility. The control unit contains all control and metering circuitry, and is linked to the loading unit by control and metering cables. The control unit is capable of injection of currents up to 100A, and adding an optional external loading unit up-rates the output capability to 500A-3000A. The combination of the PCU1/E and a suitable loading unit is ideal for all low power primary current injection tasks up to 3000A, including testing under and over current relays, circuit breakers and CT ratio testing. Each loading unit has two outputs which may be connected in series or parallel for maximum The PCITS 3000 LU3000LP may be configured to either give a maximum current of 1500A at 4V or 3000A at 2V. A full range of output leads are available to complement the equipment. The control unit is rated at 6.9kVA, and has digital current and voltage metering.
SKU: pcits3000-Q
HIRE DURATION
PRICE per week
Technical Specs

Output Current: 3000A
Separate control and loading units

T&R

T & R Test Equipment Ltd. is a member of the T & R group of companies which design and manufacture a wide range of products, including electrical test equipment, power transformers, specialist transformers and power rectifiers.

The group includes:

Transformers & Rectifiers

Delivery & Collection Information

We use next day couriers to deliver all our test instruments.  That means it doesn't matter if you're 2 or 200 miles away, we can have the test equipment you need, delivered first thing, next day.

When you have finished with the test equipment we can arrange for the same courier to collect it from you.

We also offer a same day delivery service for when you really need the test equipment urgently.