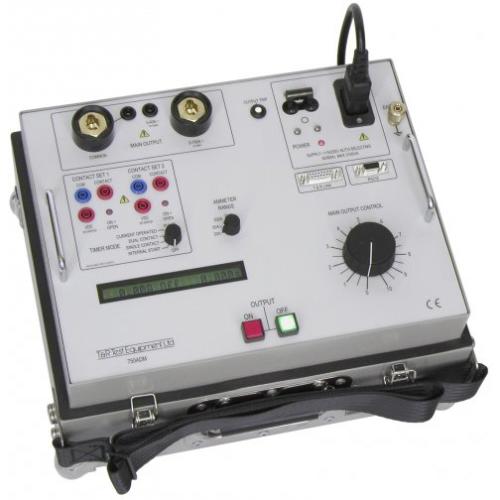 T&R ADM 750
T&R test equipment is a market leader in the field of current injection equipment. The 750ADM is a compact, rugged primary injection system with a 750A output capability. The 750 has a maximum no load output voltage of 2.8V. The unit is ideally suited to all low power primary injection tasks requiring up to 750A for short periods. The unit has two outputs, allowing injection of currents as low as a few hundred Milliamps and up to 750A. The 750ADM can be used to test many devices including Circuit Breakers, Primary Injection of Over-Current Relays, Auto Re-closers and MCB's. Loading units are available to increase to current output.
SKU: adm750-40
HIRE DURATION
PRICE per week
Technical Specs

Output Current: 750A
Automatic mains voltage selection
Multi-function timing system with memory ammeter

T&R

T & R Test Equipment Ltd. is a member of the T & R group of companies which design and manufacture a wide range of products, including electrical test equipment, power transformers, specialist transformers and power rectifiers.

The group includes:

Transformers & Rectifiers

Delivery & Collection Information

We use next day couriers to deliver all our test instruments.  That means it doesn't matter if you're 2 or 200 miles away, we can have the test equipment you need, delivered first thing, next day.

When you have finished with the test equipment we can arrange for the same courier to collect it from you.

We also offer a same day delivery service for when you really need the test equipment urgently.