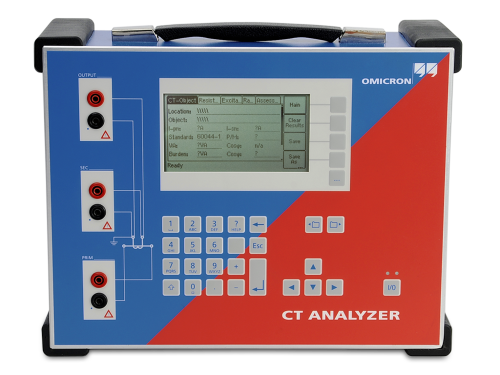 Omicron CT Analyser
The Omicron CT Analyzer automatically determines all relevant current transformer values and compares the results with the selected standard. The device evaluates the current transformer as per the IEC or IEEE standard within seconds with the push of a button.
It facilitates fast and economical on-site testing and calibration of metering and protection current transformers. Manufacturers of current transformers, high voltage transformers and switchgear also use the CT Analyzer for tests during development and production.
The following values can be determined using the CT Analyzer:
Accuracy of the ratio and phase angle, taking into consideration the nominal burden and connected burden CT excitation and saturation Burden impedance Winding resistance Saturated and non-saturated inductance CT polarity
SKU: OmiCT-25
HIRE DURATION
PRICE per week
Technical Specs

Highest measurement accuracy: 0.02 % / 1 min when calibrating on site
Very small and lightweight (< 8 kg / 17.4 lbs), easy to transport for on-site testing
Automatic evaluation according to IEC and IEEE standards
Short commissioning times (duration of the automatic test < 1min)
Excellent workplace safety – Tests run at max. 120 V
Integration into testing routines using Remote Interface Control

Omicron

Omicron

OMICRON serves the electrical power industry with innovative products and services for testing, diagnostics and monitoring of assets worldwide. We help to make the generation, transmission and distribution of electricity safe and reliable.

Delivery & Collection Information

We use next day couriers to deliver all our test instruments.  That means it doesn't matter if you're 2 or 200 miles away, we can have the test equipment you need, delivered first thing, next day.

When you have finished with the test equipment we can arrange for the same courier to collect it from you.

We also offer a same day delivery service for when you really need the test equipment urgently.