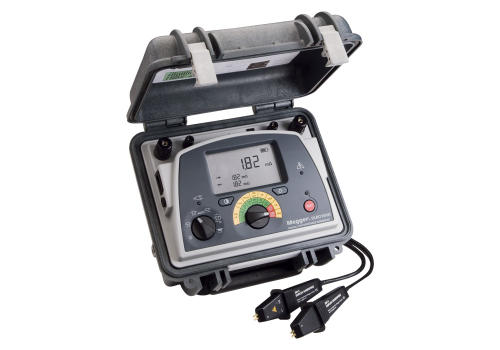 Megger DLRO10HD
The DLRO10HD is a 10A Digital Low Resistance Ohmmeter aka DUCTOR combines ultimate simplicity of operation with a rugged IP65 case designed for stable ground and bench operation. The unit is powered from either its rechargeable battery or line power making it suitable for continuous testing in production line/repetitive use environments. Rotary switch controls are simple and easy to operate in all weather conditions and with gloved hands. A large, clear, backlit LCD display is easy to read from a distance. The 1000-348 ohmmeter provides significantly enhanced compliance and is capable of delivering 10A into measurements up to 250mΩ and 1A into measurements up to 2.5Ω. The duration of each test may be up to 60 seconds. It is CAT III 300V rated device. A range of test leads is available to suit the application. The DLRO10HD provides five test modes each of which is selected through a simple rotary control.
SKU: mdlro-18
HIRE DURATION
PRICE per week
Technical Specs

High or low output power selection for condition diagnosis
Rechargeable battery or line power supply, continuous operation, even with dead battery
10 A for 60 seconds, less time waiting to cool, great for charging inductance
Rotary switch selects one of five test modes, including auto start on connection, giving ease of use

Megger

Megger designs and manufactures portable electrical test equipment. Megger products help you install, improve efficiency, reduce cost and extend the life of your or your customers' electrical assets.

Established in the late 1800s, the company has been designing and making test and measurement instruments that perform electrical measurements for preventative maintenance, troubleshooting and commissioning for decades. Megger products have supported customers all over the world to improve their facilities' efficiency, reduce costs, extend the life of apparatus and through trending and analysis, anticipate equipment failure and future performance. It now has local offices in many locations with technical support teams and distributors all over the world. Manufacturing plants are located in Germany, Sweden, the UK, and USA.

Working with customers

Megger believes that by working closely with customers it can deliver the best customer solutions and after-sales service today, and in the future. Megger is committed to anticipating client needs by listening to customers and industry specialists while continually investing in innovative research and development, design engineering and manufacturing techniques.

Megger brand

Our strategy is to produce all our products with a single brand name, Megger. The advantages to you are that you know the products and software will work well together, and all the products have a similar yet distinctive 'look and feel' with their dark and light grey casings. We don't waste colour on trying to make our test instruments pretty – we reserve it for useful functions such as range selectors and displays. Our design engineers come from many different nations, and they regularly exchange ideas and tips with colleagues from other countries. That means you get the latest innovations, one of the reasons that Megger products are so advanced. As more companies join the Megger family, you may find some test equipment sold by us that have not yet transitioned to the Megger identity system. Don't worry – our top priority is ensuring that product quality is right. We'll get round to making sure the colours are the same later.

How the greatest brands in test and measurement came together

Our systems are geared to keeping things local – localised engineering, localised marketing, localised decision-making. Our employees are proud of the companies and brands that go to make our company history and many of these names are still trademarks or registered trademarks of the company in many countries.

Delivery & Collection Information

We use next day couriers to deliver all our test instruments.  That means it doesn't matter if you're 2 or 200 miles away, we can have the test equipment you need, delivered first thing, next day.

When you have finished with the test equipment we can arrange for the same courier to collect it from you.

We also offer a same day delivery service for when you really need the test equipment urgently.