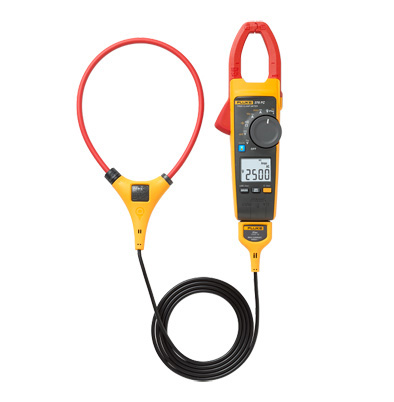 Fluke 376 FC
The Fluke 376 FC for hire offers improved performance perfect for a wide range of current measurement situations. With true-RMS voltage and current measurements, the Fluke 376 FC can read up to 1000 Volts and 1000 Amp in both AC and DC modes.
Additionally, the Fluke 376 FC includes the new iFlex™ flexible current probe, which expands the measurement range to 2500 Amps AC while providing increased display flexibility, ability to measure around awkward sized conductors and improved wire access
SKU: f376-17
HIRE DURATION
PRICE per week
Technical Specs

1000 A AC and DC current measurement with fixed jaw
iFlex flexible current probe expands the measurement range to 2500 A AC
CAT IV 600 V, CAT III 1000 V
True-RMS AC voltage and current for accurate measurements on non-linear signals
Calibration Certificate

Fluke

Fluke United Kingdom is a subsidiary of Fluke Corporation in Everett, Washington.
Fluke Corporation is the world leader in the manufacture, distribution and service of electronic test tools and software.
Since its founding in 1948, Fluke has helped define and grow a unique technology market, providing testing and troubleshooting capabilities that have grown to mission critical status in manufacturing and service industries. Every new manufacturing plant, office, hospital, or facility built today represents another potential customer for Fluke products.
From industrial electronic installation, maintenance and service, to precision measurement and quality control, Fluke tools help keep business and industry around the globe up and running. Typical customers and users include technicians, engineers, metrologists, medical-device manufacturers, and computer network professionals — people who stake their reputations on their tools, and use tools to help extend their personal power and abilities.
Fluke has achieved the number one or number two position in every market in which it competes. The Fluke brand has a reputation for portability, ruggedness, safety, ease of use and rigid standards of quality.

Delivery & Collection Information

We use next day couriers to deliver all our test instruments.  That means it doesn't matter if you're 2 or 200 miles away, we can have the test equipment you need, delivered first thing, next day.

When you have finished with the test equipment we can arrange for the same courier to collect it from you.

We also offer a same day delivery service for when you really need the test equipment urgently.