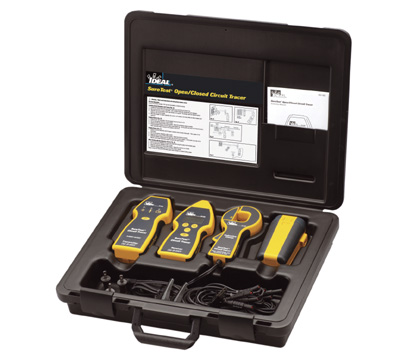 Ideal Sure Test Tracer 958
Traces wires behind walls Identifies breakers and fuses Can be used on de-energized/energized circuits 0-600V AC/DC Indicates presence of AC/DC voltage
The uncertainty of standard circuit tracers is a thing of the past. Ideal SureTest Circuit Tracers are extremely powerful for tracing and provide unparalleled levels of precision and performance. Usually, taking an accurate reading means twisting and turning to see the display. SureTest Circuit Tracers rotate in 90-degree increments to remain upright so you get the most easy-to-read measurement possible.
This unique display also features audio and visual indicators, and four modes of operation: Search High, Search Low, Trace and Breaker Modes, for an even more precise reading. Combined with its durable design and long battery life, SureTest Circuit Tracers give you the confidence to know you read it right the first time.
SKU: i958-16
HIRE DURATION
PRICE per week
Technical Specs

RC-958 Receiver:
Displays 0-99 numeric signal strength
Four modes of sensitivity: Search High, Search Low Trace Mode and Breaker Mode
Peak detecting bar graph
Audible indication (pitch/tone)
Indicated presence of AC/DC voltage
TR-958 Transmitter:
Tests energized circuits up to 600V AC/DC
Tests de-energized circuits
Injects a powerful signal into the circuit
Can be used on GFCI protected equipment

Ideal

The IDEAL Electrical Division is a trusted leader in the development of dependable products and technology for a number of industries, including electrical and wire processing, aerospace, lighting, automotive and the alternative energy industries.
OUR HISTORY

IDEAL ELECTRICAL OF IDEAL INDUSTRIES, INC.
J. Walter Becker founded IDEAL in 1916 and made a promise that is still an important part of the way IDEAL operates today: "An IDEAL product will provide a value greater than the price paid for it. Service is a part of the product." Becker's foundational principle represents our everyday commitment to you. It's the driving force behind our partnerships with the world's leading distributors, a state of the art delivery system, outstanding customer and technical support and variety of operational benefits designed to save you time and money. It means we're proud of the way we do business.
IDEAL brings you products that make your job easier; products that you can rely on, with warranties you can trust; products that are available whenever and wherever you need them. Every IDEAL product comes with the promise made by our founder 100 years ago.
PRODUCTS
Over 6,000 items make up the IDEAL family of products including some whose names have become synonymous with their function. Wire-Nut® Wire Connectors, Yellow 77® Wire Pulling Lubricant and T®-Stripper Wire Strippers are products which have found their way into the tool bags of professionals and solidified the IDEAL reputation as an engineer of innovative and trustworthy products.

Delivery & Collection Information

We use next day couriers to deliver all our test instruments.  That means it doesn't matter if you're 2 or 200 miles away, we can have the test equipment you need, delivered first thing, next day.

When you have finished with the test equipment we can arrange for the same courier to collect it from you.

We also offer a same day delivery service for when you really need the test equipment urgently.