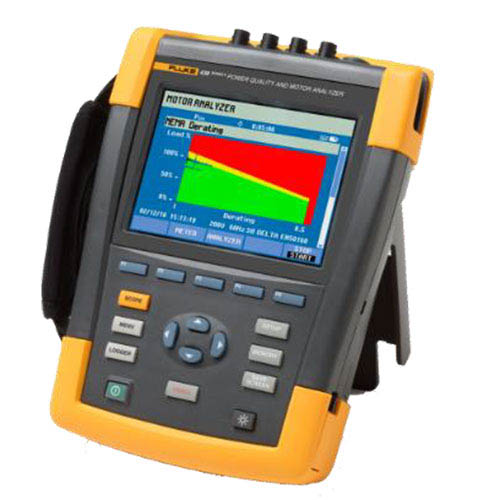 Hire The Fluke 438-II
Power Quality and Motor Analyser adds key mechanical measurement capabilities for electric motors to the cutting-edge power quality analysis functions of the Fluke 430 Series II Power Quality Analysers. Quickly and easily measure and analyse key electrical and mechanical performance parameters such as power, harmonics, motor speed, unbalance, torque and mechanical power without the use of mechanical sensors.
Motor torque
Calculates the amount of rotational force (displayed in lb.ft or Nm) developed by a motor and transmitted to a driven mechanical load. The motor torque is the single most critical variable that characterises the instantaneous mechanical performance of rotating equipment driven by electric motors.
Motor speed
Provides the instantaneous motor shaft rotational speed. Combined with the motor torque, motor speed provides a snapshot of the mechanical performance of rotating equipment driven by electric motors.
Motor mechanical load
Measures the actual mechanical power (displayed in hp or kW) produced by motors and provides a direct link to overloading conditions without simply basing it on the motor current.
Motor efficiency
Shows the effectiveness of each motor within a machine, assembly line, plant, and/or facility in converting electric power to useful mechanical work. By properly aggregating the efficiencies of a population of motors the total (aggregate) efficiency can be estimated. Comparisons to expected motor efficiencies at observed operating conditions can help quantify the cost associated with motor energy inefficiency.
How it works
Using proprietary algorithms, the Fluke 438-II Power Quality and Motor Analyser uses three phase current and voltage waveforms to calculate motor torque, speed, load and efficiency at a 1 second update rate. The motor air gap field, as observed via the voltage/current waveforms, provides the basis for the measurements. Mechanical sensors and intrusive no-load motor testing is not required, making it faster than ever to analyse overall electric motor performance.
SKU: f438-19
HIRE DURATION
PRICE per week
Technical Specs

Measure key parameters on direct-on-line motors including torque, RPM, mechanical power and motor efficiency
Perform dynamic motor analysis by plotting of motor de-rating factor against load according to NEMA guidelines
Calculate mechanical power and efficiency without the need of mechanical sensors, just connect to the input conductors and you're ready to go

Fluke

Fluke United Kingdom is a subsidiary of Fluke Corporation in Everett, Washington.
Fluke Corporation is the world leader in the manufacture, distribution and service of electronic test tools and software.
Since its founding in 1948, Fluke has helped define and grow a unique technology market, providing testing and troubleshooting capabilities that have grown to mission critical status in manufacturing and service industries. Every new manufacturing plant, office, hospital, or facility built today represents another potential customer for Fluke products.
From industrial electronic installation, maintenance and service, to precision measurement and quality control, Fluke tools help keep business and industry around the globe up and running. Typical customers and users include technicians, engineers, metrologists, medical-device manufacturers, and computer network professionals — people who stake their reputations on their tools, and use tools to help extend their personal power and abilities.
Fluke has achieved the number one or number two position in every market in which it competes. The Fluke brand has a reputation for portability, ruggedness, safety, ease of use and rigid standards of quality.

Delivery & Collection Information

We use next day couriers to deliver all our test instruments.  That means it doesn't matter if you're 2 or 200 miles away, we can have the test equipment you need, delivered first thing, next day.

When you have finished with the test equipment we can arrange for the same courier to collect it from you.

We also offer a same day delivery service for when you really need the test equipment urgently.