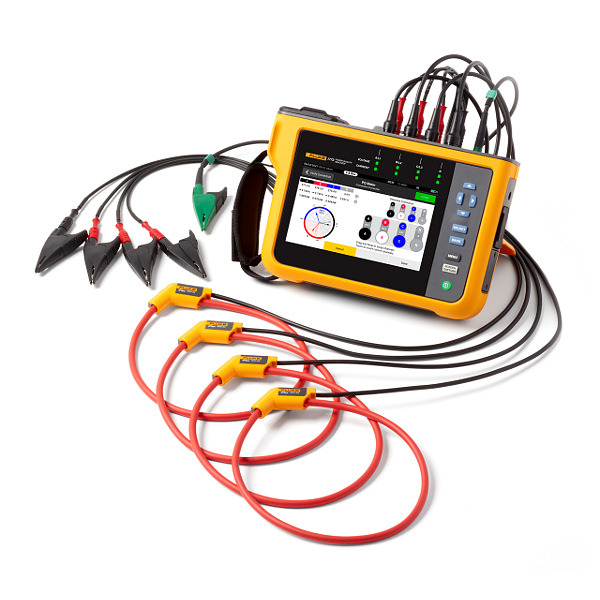 Fluke 1775 Power Quality Analyser
For hire, the Fluke 1775 Power Quality Data Logger eliminates the complexities of power quality logging, troubleshooting, and analysis. Its engineered to be the faster, easier way to perform power quality studies, the Fluke 1775  offers automatic measurements, a straightforward user interface and setup, best-in-class specifications, and a simplified reporting platform. The instrument can also be powered directly from the measurement circuit, eliminating the need to find a power socket.
Energy studies – Get detailed power and energy consumption profiles during energy audits and pinpoint savings opportunities

Measure V, I, kW, Cos/DPF, kWhr
Measure MIN/MAX and AVG values

Basic harmonics study – Discover the source of distortion in your installation, so that you can filter those loads or move them to separate circuits

THD measurement (V & I)
Harmonics 1 to 25 for V & I

Advanced harmonics study – If distorting loads are causing problems in your installation, you need comprehensive data to identify the source and create a solution

Full harmonic spectrum
Power Harmonics

Industrial power quality troubleshooting – When troubleshooting in the field, graphical data enables you to trace the source of the problem at hand

Oscilloscope function
Voltage dips and swells

Advanced power quality troubleshooting – Complex installations often require a deeper dive into measurement data. Multiple loads may be interacting randomly to cause a single problem

Comprehensive logging capability
SKU: 1775.20
HIRE DURATION
PRICE per week
Technical Specs

4x iflex 1500 24 inch flexible C/T's (1500A)

5x Voltage leads

Fluke

Fluke United Kingdom is a subsidiary of Fluke Corporation in Everett, Washington.
Fluke Corporation is the world leader in the manufacture, distribution and service of electronic test tools and software.
Since its founding in 1948, Fluke has helped define and grow a unique technology market, providing testing and troubleshooting capabilities that have grown to mission critical status in manufacturing and service industries. Every new manufacturing plant, office, hospital, or facility built today represents another potential customer for Fluke products.
From industrial electronic installation, maintenance and service, to precision measurement and quality control, Fluke tools help keep business and industry around the globe up and running. Typical customers and users include technicians, engineers, metrologists, medical-device manufacturers, and computer network professionals — people who stake their reputations on their tools, and use tools to help extend their personal power and abilities.
Fluke has achieved the number one or number two position in every market in which it competes. The Fluke brand has a reputation for portability, ruggedness, safety, ease of use and rigid standards of quality.

Delivery & Collection Information

We use next day couriers to deliver all our test instruments.  That means it doesn't matter if you're 2 or 200 miles away, we can have the test equipment you need, delivered first thing, next day.

When you have finished with the test equipment we can arrange for the same courier to collect it from you.

We also offer a same day delivery service for when you really need the test equipment urgently.