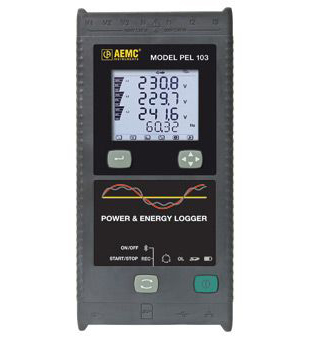 Chauvin Arnoux CA PEL 103 – Energy Measurement Logger
The Chauvin Arnoux PEL 102 and PEL 103 loggers are power and energy measurement loggers for all electrical installations. The measurements are performed with 3 current sensors and voltage inputs. They can be used to view all the electrical parameters and to take advantage of the measurement, energy metering and communication functions.
The PEL100 family of energy meters makes it simple to add metering and measurement points in electrical cabinets where most of the space is already occupied. Because they are magnetic, they can be set up very easily in any cabinet and do not cause any obstruction once the cabinet door is closed.
SKU: ca.pel-17
HIRE DURATION
PRICE per week
Technical Specs

Single-phase, split-phase and three-phase
Recording on SD and SD-HC cards

Chauvin Arnoux

Founded in 1893 by Raphaël Chauvin and René Arnoux, Chauvin Arnoux has had a considerable influence on the development of measurement technology. A long and prestigious list of inventions, such as the Universal Tester (the precursor of the Multimeter) and the ammeter clamp, bears witness to this fact. Throughout the 20th century, Chauvin Arnoux filed more than 350 patents and trade marks.

These last few years have been marked by the gain of some impressive brand names such as Metrix, Pyro-Contrôle, Enerdis, Oritel and Radio Contrôle.

Chauvin Arnoux Ltd continues to be a family owned business and is subsequently managed with the same business and work ethincs that are attributed with being such.

Delivery & Collection Information

We use next day couriers to deliver all our test instruments.  That means it doesn't matter if you're 2 or 200 miles away, we can have the test equipment you need, delivered first thing, next day.

When you have finished with the test equipment we can arrange for the same courier to collect it from you.

We also offer a same day delivery service for when you really need the test equipment urgently.