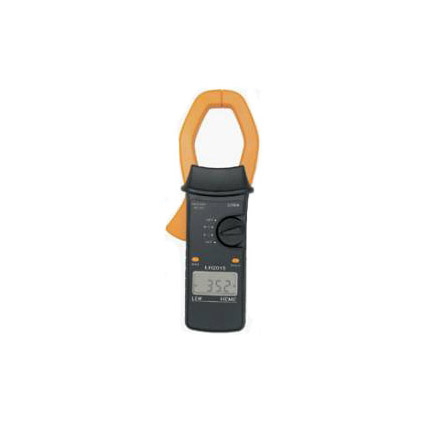 Heme 2000 – Clamp Meter
For hire, the LH2015's large jaw is suitable for current measurements up to 2000 A ac/dc on large conductors or bus bars. The LH2015's measurement accuracy is unaffected by external magnetic fields or off-center conductor positioning due to its advanced jaw design. Its Display-Hold feature freezes the measurement for viewing after measuring and the MAX-Hold captures the maximum measured current.
SKU: hcm-16
HIRE DURATION
PRICE per week
Technical Specs

2000 Amp ac/dc current measurement
Accurate True RMS measurement for distorted waveforms
Large 50 mm (2 in) jaw capacity
Autoranging and Auto-zero
Display-Hold and Max-Hold (Surge)
Calibration Certificate

Heme

Heme LEM is the market leader in providing innovative and high quality solutions for measuring electrical parameters. Its core products – current and voltage transducers – are used in a broad range of applications in drives & welding, renewable energies & power supplies, traction, high precision, conventional and green cars businesses. LEM's strategy is to exploit the intrinsic strengths of its core business, and to develop opportunities in existing and new markets with new applications. It has production plants in Beijing (China), Geneva (Switzerland), Sofia (Bulgaria) and Machida (Japan). With regional sales offices near its customers' locations, the company is able to offer a seamless service around the globe. LEM has been listed on the SIX Swiss Exchange since 1986; the company's ticker symbol is LEHN.

LEM is a mid-size, global company with approximately 1'300 employees worldwide and reported sales of CHF 257.8 million in financial year 2014/15.

Delivery & Collection Information

We use next day couriers to deliver all our test instruments.  That means it doesn't matter if you're 2 or 200 miles away, we can have the test equipment you need, delivered first thing, next day.

When you have finished with the test equipment we can arrange for the same courier to collect it from you.

We also offer a same day delivery service for when you really need the test equipment urgently.