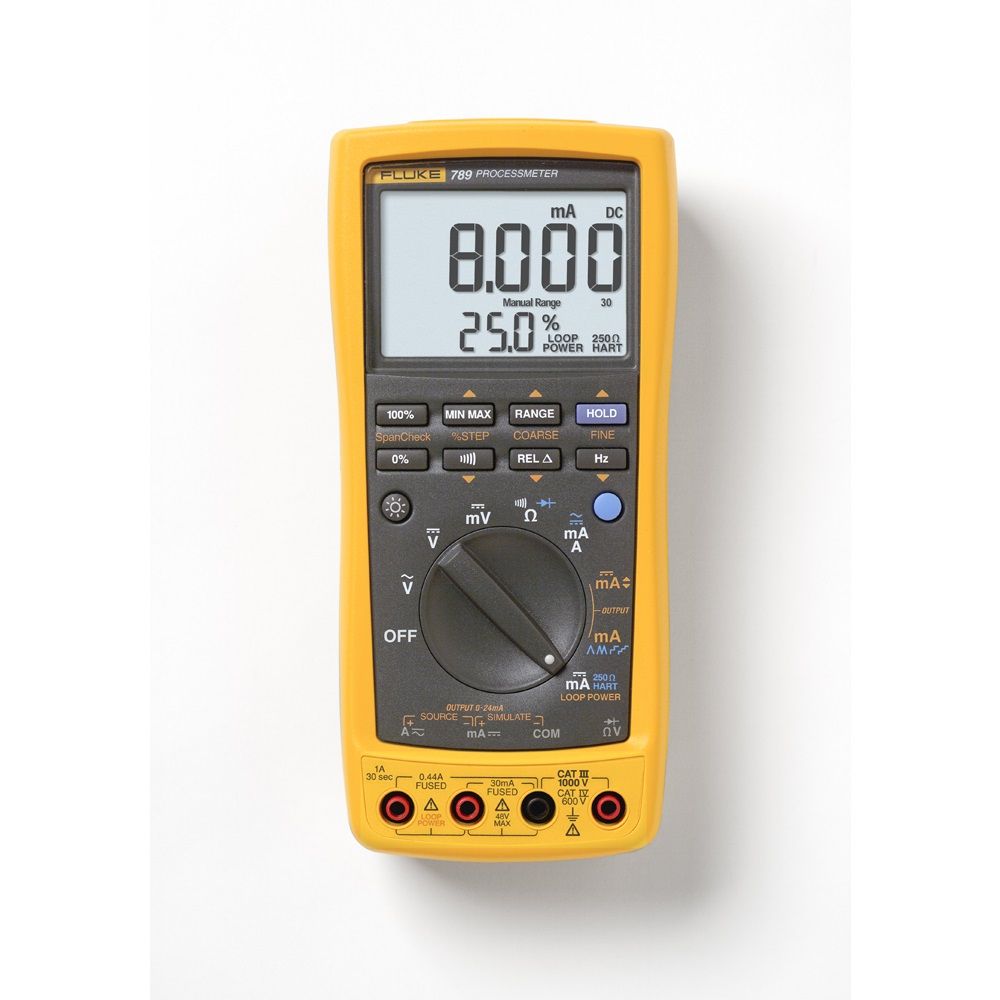 The Fluke 789 ProcessMeter is the ultimate troubleshooting tool for electricians and instrumentation professionals. It combines the functionality of a full-featured loop calibrator with the power of a CAT III 1000 V, CAT IV 600 V safety rated digital multimeter.  The 789 has a large, dual display with two levels of backlighting and externally accessible fuse and batteries for easy replacement. And its built-in, selectable 250-ohm HART® resistor eliminates the need to carry a separate resistor.
The 789 also has a built-in 24-Volt loop supply, which reduces the need to carry a separate power supply when doing offline transmitter testing. You can also add the wireless data logging capabilities of the Fluke Connect™ mobile app to log data wirelessly to your smart phone and review it from a remote location.
Compact digital multimeter and mA loop calibrator solution
Full-featured mA loop calibrator with built-in 24v Loop Power
Quickly and easily troubleshoot every part of a control loop
Large, bright dual-measurement display
SKU:
HIRE DURATION
PRICE per week
Technical Specs

Range
0-1 A AC or DC
Resolution
1 mA
Accuracy
0.2% + 2 LSD (DC)
Range
0-30 mA
Resolution
0.001 mA
Accuracy
0.05% + 2 lSD
Current sourcing
Range
0-20 mA or 4-20 mA
Resolution
0.05% of span

Fluke

Fluke United Kingdom is a subsidiary of Fluke Corporation in Everett, Washington.
Fluke Corporation is the world leader in the manufacture, distribution and service of electronic test tools and software.
Since its founding in 1948, Fluke has helped define and grow a unique technology market, providing testing and troubleshooting capabilities that have grown to mission critical status in manufacturing and service industries. Every new manufacturing plant, office, hospital, or facility built today represents another potential customer for Fluke products.
From industrial electronic installation, maintenance and service, to precision measurement and quality control, Fluke tools help keep business and industry around the globe up and running. Typical customers and users include technicians, engineers, metrologists, medical-device manufacturers, and computer network professionals — people who stake their reputations on their tools, and use tools to help extend their personal power and abilities.
Fluke has achieved the number one or number two position in every market in which it competes. The Fluke brand has a reputation for portability, ruggedness, safety, ease of use and rigid standards of quality.

Delivery & Collection Information

We use next day couriers to deliver all our test instruments.  That means it doesn't matter if you're 2 or 200 miles away, we can have the test equipment you need, delivered first thing, next day.

When you have finished with the test equipment we can arrange for the same courier to collect it from you.

We also offer a same day delivery service for when you really need the test equipment urgently.