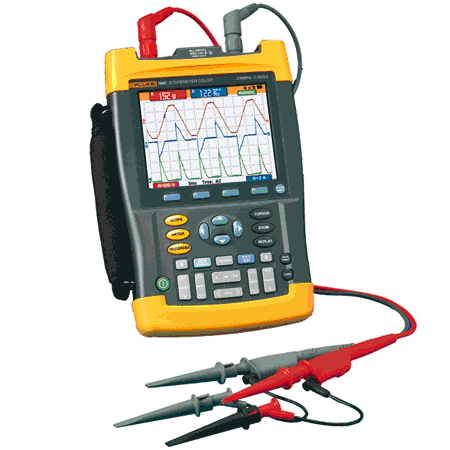 Fluke 199C – 200MHz Scope
The portable oscilloscope is used in many field troubleshooting applications, from electrical and electro-mechanical to electronic and industrial control systems. Fluke ScopeMeter, a combination DMM and oscilloscope, is a rugged, reliable scope for field service professionals.
See fast spikes before they ruin your motor Capture overvoltage of variable speed drives easily. See more, fix more Besides unrivalled scope performance, the Fluke 199C Color ScopeMeter is built for demanding industrial environments: rugged, IP51 dust and drip proof, battery operated and hand-held. Long cables between motor and motor drive often generate voltage reflections. This will lead to unexpected excessive voltage peaks. These peaks stress motor winding insulation leading to severe motor damage and burn out.
SKU: f199c-18
HIRE DURATION
PRICE per week
Technical Specs

200 MHz (Fluke 199C/003) Bandwidths
Increased waveform acquisition memory depth of 3k points per input
Advanced Trigger Function
Frequency Spectrum Analysis using FFT
Advanced waveform mathematics for adding, subtracting and multiplying waveforms
A versus B waveform display for advanced signal analysis
Automatic rise and fall time measurement
Improved Trend Plot scaling
Improved Voltage Readings stability
Pass/Fail testing with reference waveform
2mV sensitivity
Color for easy identification of individual waveforms
Full-size, high-resolution screen for revealing more signal detail
Digital Persistence for analyzing complex dynamic waveforms like on an analog scope
Fast display update rate for seeing dynamic behavior instantaneously
Stop-on-Trigger in ScopeRecord™ mode for storing and analyzing pre-trigger waveform data
Waveform reference for visual comparisons
Vpwm function for motor drive and frequency inverter applications
Up to 200 MHz bandwidth
Up to 2.5 GS/s real time sampling
Connect-and-View™ triggering for an instant stable waveform
Automatic capture and replay of last 100 screens
Isolated inputs (1000 V CAT II/600 V CAT III)

Fluke

Fluke United Kingdom is a subsidiary of Fluke Corporation in Everett, Washington.
Fluke Corporation is the world leader in the manufacture, distribution and service of electronic test tools and software.
Since its founding in 1948, Fluke has helped define and grow a unique technology market, providing testing and troubleshooting capabilities that have grown to mission critical status in manufacturing and service industries. Every new manufacturing plant, office, hospital, or facility built today represents another potential customer for Fluke products.
From industrial electronic installation, maintenance and service, to precision measurement and quality control, Fluke tools help keep business and industry around the globe up and running. Typical customers and users include technicians, engineers, metrologists, medical-device manufacturers, and computer network professionals — people who stake their reputations on their tools, and use tools to help extend their personal power and abilities.
Fluke has achieved the number one or number two position in every market in which it competes. The Fluke brand has a reputation for portability, ruggedness, safety, ease of use and rigid standards of quality.

Delivery & Collection Information

We use next day couriers to deliver all our test instruments.  That means it doesn't matter if you're 2 or 200 miles away, we can have the test equipment you need, delivered first thing, next day.

When you have finished with the test equipment we can arrange for the same courier to collect it from you.

We also offer a same day delivery service for when you really need the test equipment urgently.