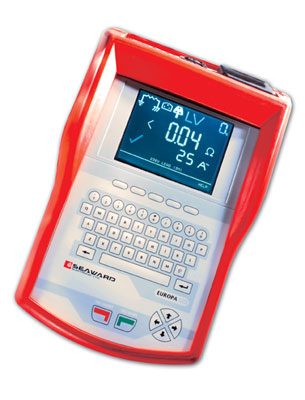 Seaward Europa Plus
The Europa Plus is a PAT tester and then some. With its full compliment of tests and dual voltage abilities you can PAT test any appliance right there, right then. It performs in-situ Earth Bond and touch current tests while the equipment under test remains powered up; leading to shorter test times. And it can also record the asset details from maintenance – allowing you to print labels and download the results into a software management system. Like the other PAT testers in the Seaward range it's portable so you can just pick it up and carry it with ease. With in-situ testing you spend less time disconnecting the appliance from accessories and avoid having to power down critical equipment. This is fast PAT testing. Your working day is seriously shorter.
Standard Features
* Accurate Earth Bond and Leakage Measurements even when multiple Earth Paths exist. * Seaward Super System (SSS) for speed * Has up to 5000 Memory Locations * Dual voltage test capability * Modem Capability * Summary Format * Polarity Lead Test capability * Tests IT equipment * Real time clock and non-volatile memory * Capable of printing barcode labels in conjunction with thermal printer * Connects to PC, barcode reader, Brain Cells Scanner and printer * Supplied with luxury Carry Case * Protective Rubber Holster
PLUS features
* Performs in-line Earth Bond and Touch Leakage tests while the equipment under test remains powered up – greatly reducing test times * Unit incorporates Results Comparison Software * 2 Serial Ports – use a bar-code scanner and printer together * Earth Cable Length Calculator * Automatic Generation of Appliance ID's * Single Screen Visual Test
SKU: seurp-16
HIRE DURATION
PRICE per week
Technical Specs

Tests PC's and Information Technology Equipment
Stores upto 5000 PAT test results in download memory
Dual voltage tester for 230 Volt & 115 Volt appliances
Tests IEC leads including polarity check
Connects to barcode readers, PC and printers
Built in Earth Limit Calculator for Class 1 appliances
Can perform earth leakage and touch current tests
Calibration Certificate

Seaward

About Seaward

Established over 30 years ago, Seaward Electronic based in Co. Durham, England is the market leader in the field of electrical safety test instrumentation.

The company provides total test solutions to enable companies and organisations to comply with the demands of all types of electrical safety legislation including portable appliance testing, installation, medical, and machinery testing.

Seaward is renowned for its commitment to continuous product development, innovation, and is the global market leaders in portable appliance test instruments (PATS) and associated accessories such as PAT software. The company is dedicated to setting higher standards of quality and performance.

Seaward recognise the needs of test professionals and understands the practical requirements of today's testing. The companies reputation has been built on developing innovative yet practical solutions.

Seaward has an extensive distribution network in the UK, and is represented worldwide across 30 countries. As part of the Seaward Group, Seaward Electronic enjoys success alongside the Group's other brands, Cropico – Precision Measurement, Rigel Medical – Biomedical Engineering products, Clare Instruments – electrical compliance test equipment for Manufacturers and Hire companies and Seaward Group USA – US Distributor for the Group, in Florida, USA.

Seaward is also a member of GAMBICA and it's associated B2B Compliance program which operates alongside the WEEE directive.

Delivery & Collection Information

We use next day couriers to deliver all our test instruments.  That means it doesn't matter if you're 2 or 200 miles away, we can have the test equipment you need, delivered first thing, next day.

When you have finished with the test equipment we can arrange for the same courier to collect it from you.

We also offer a same day delivery service for when you really need the test equipment urgently.