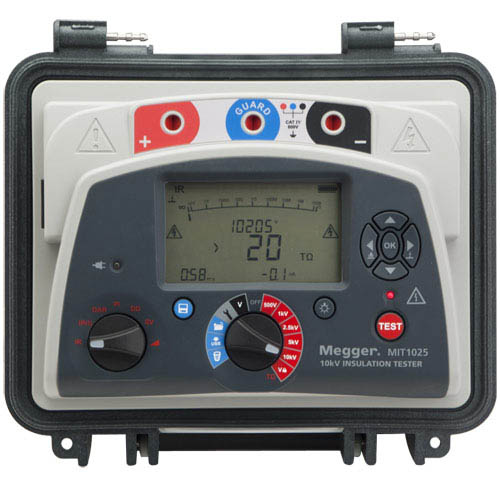 Megger MIT1025
The MIT1025 10kV Insulation Tester for the diagnostic testing and maintenance of high voltage electrical equipment. Enclosed in a tough case it is both smaller and lighter than its predecessor making it even easier to carry and store.
As well as measuring insulation resitance to 20 TΩ, the MIT1025 also offers various diagnostic tests such as Polarisation index, Dielectric Absorption Ratio, Step Voltage, Dielectric discharge and ramp testing.
Now equipped with lithium ion fast rechargeable batteries, the instrument has a large, clear, easy to read, display making it equally suitable for use in both bright sunlight and poorly lit environments. Information displayed includes resistance, voltage, leakage current, capacitance, battery status and time constant. In addition, the elapsed time of the test is displayed constantly removing the need for separate timer.
SKU: m1025-19
HIRE DURATION
PRICE per week
Technical Specs

Measures up to 20 TΩ
PI, DAR, DD, SV and ramp test
Improved productivity – operate from line power/mains if battery dead
Li ion battery – extended capacity, rapid charge
Advanced memory with time/date stamp
CATIV 600 V safety rating
Calibration Certificate

Megger

Megger designs and manufactures portable electrical test equipment. Megger products help you install, improve efficiency, reduce cost and extend the life of your or your customers' electrical assets.

Established in the late 1800s, the company has been designing and making test and measurement instruments that perform electrical measurements for preventative maintenance, troubleshooting and commissioning for decades. Megger products have supported customers all over the world to improve their facilities' efficiency, reduce costs, extend the life of apparatus and through trending and analysis, anticipate equipment failure and future performance. It now has local offices in many locations with technical support teams and distributors all over the world. Manufacturing plants are located in Germany, Sweden, the UK, and USA.

Working with customers

Megger believes that by working closely with customers it can deliver the best customer solutions and after-sales service today, and in the future. Megger is committed to anticipating client needs by listening to customers and industry specialists while continually investing in innovative research and development, design engineering and manufacturing techniques.

Megger brand

Our strategy is to produce all our products with a single brand name, Megger. The advantages to you are that you know the products and software will work well together, and all the products have a similar yet distinctive 'look and feel' with their dark and light grey casings. We don't waste colour on trying to make our test instruments pretty – we reserve it for useful functions such as range selectors and displays. Our design engineers come from many different nations, and they regularly exchange ideas and tips with colleagues from other countries. That means you get the latest innovations, one of the reasons that Megger products are so advanced. As more companies join the Megger family, you may find some test equipment sold by us that have not yet transitioned to the Megger identity system. Don't worry – our top priority is ensuring that product quality is right. We'll get round to making sure the colours are the same later.

How the greatest brands in test and measurement came together

Our systems are geared to keeping things local – localised engineering, localised marketing, localised decision-making. Our employees are proud of the companies and brands that go to make our company history and many of these names are still trademarks or registered trademarks of the company in many countries.

Delivery & Collection Information

We use next day couriers to deliver all our test instruments.  That means it doesn't matter if you're 2 or 200 miles away, we can have the test equipment you need, delivered first thing, next day.

When you have finished with the test equipment we can arrange for the same courier to collect it from you.

We also offer a same day delivery service for when you really need the test equipment urgently.