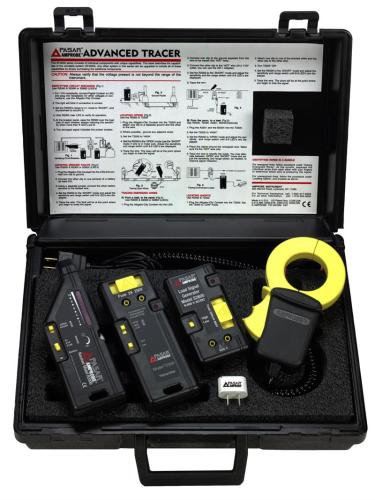 Amprobe 2000 – Advance cable tracer
Amprobe AT-2004-A Wire Tracer Advanced Set locates circuits of energized wires buried or hidden behind walls up to 13 feet deep. The AT-2004-A is a wire circuit tracer and cable locator of unenergized and open (broken) wires. Performs tests without having to interrupt power. Locates electrical breakers, neutral and ground lines, etc.
SKU: Amprb2000-16
HIRE DURATION
PRICE per week
Technical Specs

Traces live wires buried or hidden behind walls up to 13 feet deep
Traces unenergized and open (broken) wires
Performs tests without having to interrupt power
Locates breakers, neutral and ground lines
Locates and traces wires in walls, floors, conduit, computer cables, etc.
Pinpoints shorts, ground faults and broken wires
Does not interfere with sensitive electronic equipment

Amprobe

About Amprobe

Amprobe® builds rugged, reliable test and measurement tools that have been trusted by professional electricians and HVAC technicians for over 65 years. Our products range from an extensive line of clamp meters and digital multimeters to industry-specific tools for residential/commercial electricians, HVAC/R technicians, utilities and industrial maintenance professionals.

Amprobe began life in Long Island, NY in 1948 under the name Pyramid Instrument Company. Among Amprobe's first products was the Inductive clamp meter "Amprobe", for which the company received its first patent in September 1950. The Amprobe name became so synonymous with clamp meters that in 1960 the company name was formally changed to Amprobe Instrument Corporation. Amprobe continued to design, manufacture and distribute products from its Lynbrook, NY location until it was merged to form ATP and relocated to South Florida in late 1999. In 2006 Amprobe was acquired by the Danaher Corporation and moved its worldwide headquarters to Everett, Washington.

Over the last six decades Amprobe has become a leading manufacturer of safe, reliable electrical test tools for industrial, commercial and residential applications with over 500 products worldwide. Amprobe not only invented the first clamp meter and the first wire tracer, but has also been consistently first to market with innovative solutions to better meet the needs of our professional customers. All Amprobe tools undergo rigorous testing to ensure quality and full compliance with the latest IEC and CE safety regulations in our state of the art environmental and safety testing labs and are further listed with third party certification labs.

Delivery & Collection Information

We use next day couriers to deliver all our test instruments.  That means it doesn't matter if you're 2 or 200 miles away, we can have the test equipment you need, delivered first thing, next day.

When you have finished with the test equipment we can arrange for the same courier to collect it from you.

We also offer a same day delivery service for when you really need the test equipment urgently.