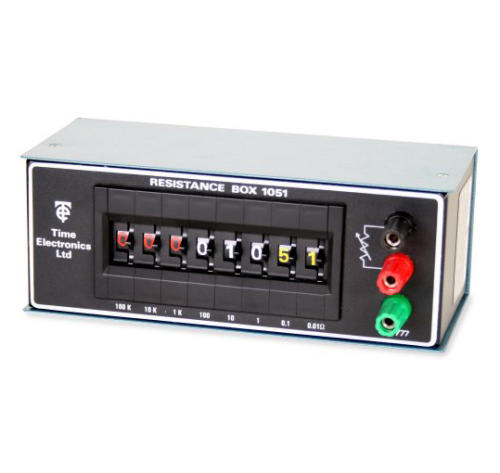 Time 1051 – Decade Resistance Box
The 1051 for hire is a wide range low ohms resistance box designed for general laboratory work including platinum resistance thermometry. Switch Contacts Special attention has been given to the reliability of operation. A special multiple gold contact arrangement ensures low contact resistance and continued operation even if a contact fails. To enhance reading the setting, the 1051 has colour coded digits as shown in the above image; Kohms (red), ohms (white), and 0.1 ohms (yellow).
SKU: t1051-17
HIRE DURATION
PRICE per week
Technical Specs

0.01Ω to 1MΩ
High accuracy & stability
Clear visual indication
Safety terminals
Low temperature coefficient
Suitable for PRT/RTD
Calibration Certificate

Delivery & Collection Information

We use next day couriers to deliver all our test instruments.  That means it doesn't matter if you're 2 or 200 miles away, we can have the test equipment you need, delivered first thing, next day.

When you have finished with the test equipment we can arrange for the same courier to collect it from you.

We also offer a same day delivery service for when you really need the test equipment urgently.