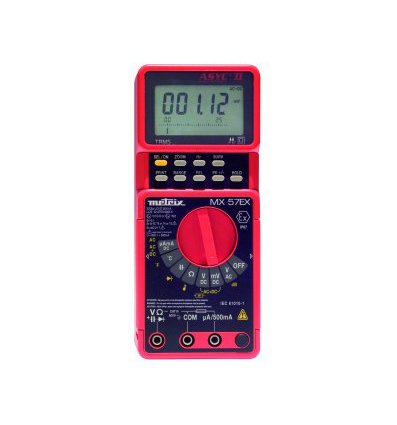 Metrix 57EX – IS Multimeter
The Metrix MX57Ex Multimeter for hire is an ATEX / IECEx certified multimeter designed for use in dangerous or explosive "gas" or "dust" environments, in compliance with the EN 50014, 50020 and 50281-1-1 standards. The Intrinsically safe Metrix MX57EX DMM is certified LCIE 02 ATEX 6005 X and, according to the "old regulations", EEx ib IIc T5/ EEx ib I. In accordance with the EN 50014, EN 50020 and EN50281-1-1 standards, this MX 57Ex multimeter also complies with the EEx ib IIc T5 / EEx ib I and ATEX II 2 G/D / I M2 specifications. It is equipped with a 500mA fuse and the patented SECURIX system to prevent accidental disconnection of the test leads.
SKU: mx57-16
HIRE DURATION
PRICE per week
Technical Specs

50,000-count TRMS
Rugged casing and IP 67 sealed
Measures AC current in TRMS values
Surveillance function for MIN, MAX and AVG values
Measures rapid peaks 1 ms (Peak+ and Peak-)
Rapid bargraph with zoom (x5)
Calibration Certifiacte

Metrix

Founded in 1965 by Peter J. Sundt, Metrix traces its roots to seismic measurement technology. Initially focused on geophysical exploration, this technology also found abundant applications for vibration measurements on industrial machines. As a result, machinery condition monitoring emerged as our sole focus and has remained so for 50 years.

Metrix pioneered the concept of simple, affordable machinery protection with our mechanical vibration switch offerings, revolutionary 4-20mA vibration transmitters, robust high-temperature velocity sensors, and innovative impact transmitter technology for reciprocating machinery.

In 1998 we acquired PMC/ BETA, the world's leading provider of electronic vibration switches. In 2007 we acquired the vibration monitoring division of Hardy Instruments and their industry-leading portable vibration calibrators.

Metrix has been ISO-9001 certified for more than 20 years, which ensures that we never lose sight of quality and continuous improvement of our manufacturing processes.

Delivery & Collection Information

We use next day couriers to deliver all our test instruments.  That means it doesn't matter if you're 2 or 200 miles away, we can have the test equipment you need, delivered first thing, next day.

When you have finished with the test equipment we can arrange for the same courier to collect it from you.

We also offer a same day delivery service for when you really need the test equipment urgently.