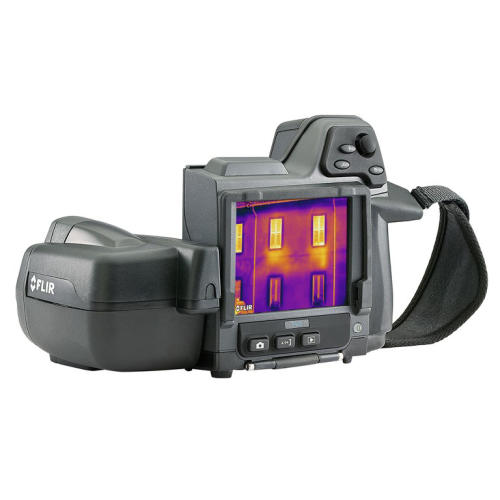 FLIR T420 – Professional Thermal Imaging Camera
Flir T420 features an Exclusive Rotating Optical Block Work smarter and let the camera bend over backwards and forwards to help you get through your busy schedule. Reduce stress on your neck and back. Scan targets overhead, under things, and from the toughest angles by pointing the lens 120° up or down while keeping the display in easy view.
Flir T420 has the latest MSX® Thermal Image Enhancement Now available on all T-Series cameras, MSX virtually etches numbering, labeling and other key visual details onto the infrared image in real time to create an all-in-one, thermal picture that shows exactly where problems are heating up.
SKU: flirT420-20
HIRE DURATION
PRICE per week
Technical Specs

Detector 320×240
Accuracy ±2% or 2°C
Range -20°C to 650°C
MSX
Digital Camera
Flir Tools Software

Flir

About FLIR

FLIR Systems – The World's Sixth Sense

FLIR Systems, Inc. designs, develops, manufactures, markets, and distributes technologies that enhance perception and awareness. We bring innovative sensing solutions into daily life through our thermal imaging systems, visible-light imaging systems, locator systems, measurement and diagnostic systems, and advanced threat detection systems. Our products improve the way people interact with the world around them, enhance public safety and well-being, increase energy efficiency, and enable healthy and entertained communities.

Delivery & Collection Information

We use next day couriers to deliver all our test instruments.  That means it doesn't matter if you're 2 or 200 miles away, we can have the test equipment you need, delivered first thing, next day.

When you have finished with the test equipment we can arrange for the same courier to collect it from you.

We also offer a same day delivery service for when you really need the test equipment urgently.