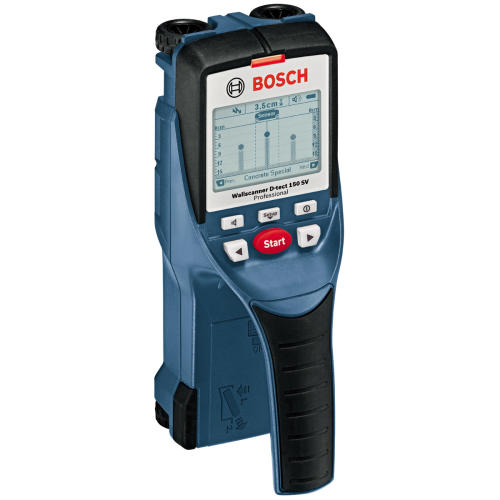 Bosch D-tect 150 SV
BOSCH D-TECT150 Digital Wall Scanner – Ultra wideband radar sensor system for detection accurate to the millimetre of ferrous/non-ferrous metals, electrical cables, wooden beams and plastic pipes such as floor and wall heating pipes – Precise detection of rebar in concrete up to 15 cm deep – Digital display of material properties and maximum permitted drilling depth
SKU: Dtech150-16
HIRE DURATION
PRICE per week
Technical Specs

Unique: reliable detection of objects in damp concrete
Millimetre-accurate detection of ferrous/non-ferrous metals, live cables, wooden studs and plastic pipes
Digital display of material properties
The actual object depth is displayed, making it easy to determine the actual level of concrete cover
The Signal View/SV displays objects that are very close together even more precisely
The specialist for finding reinforcements with three operating modes for concrete
Ruler View: measuring distances between objects, millimetre-accurate marking on the wall
Requires no calibration

Bosch

The Power Tools Division of the Bosch Group is the world market leader for power tools and power tool accessories. The core success factors are innovative strength and pace of innovation. Each year, Bosch launches more than 100 new power tools onto the market.

About Robert Bosch Tool Corporation

Robert Bosch Tool Corporation in North America, was formed in January 2003 when Robert Bosch GmbH combined its North American power tool, accessory and lawn and garden divisions into one organization. As a manufacturing pioneer with more than a century's worth of experience, the Bosch name has become synonymous with engineering excellence. The Robert Bosch Tool Corporation is a world leader in the design, manufacture and sale of power tools, rotary and oscillating tools, accessories, laser and optical leveling and range finding tools, and garden and watering equipment.

Delivery & Collection Information

We use next day couriers to deliver all our test instruments.  That means it doesn't matter if you're 2 or 200 miles away, we can have the test equipment you need, delivered first thing, next day.

When you have finished with the test equipment we can arrange for the same courier to collect it from you.

We also offer a same day delivery service for when you really need the test equipment urgently.