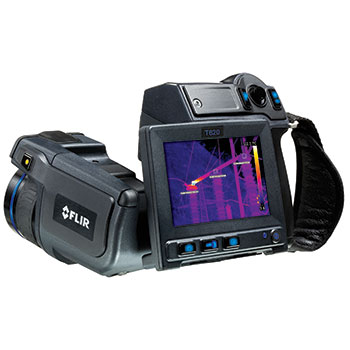 FLIR T640 – Advanced Thermal Imaging Camera
The FLIR T640 thermal imaging camera combines industry leading specifications with highly sophisticated features and functions to create the most flexible, innovative and highest quality professional-grade hand-held thermal imager available today. The FLIR T640 is for serious users who demand premium capabilities making the imager the perfect choice for any industrial, plant, utility, HVAC and building-related application. The T640 also features a GPS that automatically adds location data to images for including in reports (live link in FLIR Tools Reports to Google Maps). The new Field of View (FOV) Match option allows the user to match the visible camera field of view to the IR FOV for better documentation.
The FLIR T640 offers a temperature range of -40 to 2000°C (-40 to 3632°F) with an accuracy of ±2% and a thermal sensitivity of < 0.035°C. Offering the highest resolution in its class—640 × 480 pixels—the T640 provides crisp images for greater accuracy and readability from longer distances. A 5 megapixel digital camera provides sharper visible light images for clear reference pictures of target objects. Thermal fusion and scalable picture-in-picture capabilities add compelling context to images by overlaying thermal and visible images making it easier to identify targets and locations. A laser pointer aids aiming while a bright LED lamp provides light in dark corners. The auto/manual focus lens has 8x continuous digital zoom and provides a 25° field of view.
SKU: flirt640-20
HIRE DURATION
PRICE per week
Technical Specs

Accuracy 2%
Detector 640×480
Total Pixels 307200
Min (°C) -40°C
Max (°C) 2000°C
Field of View 25×19

Flir

About FLIR

FLIR Systems – The World's Sixth Sense

FLIR Systems, Inc. designs, develops, manufactures, markets, and distributes technologies that enhance perception and awareness. We bring innovative sensing solutions into daily life through our thermal imaging systems, visible-light imaging systems, locator systems, measurement and diagnostic systems, and advanced threat detection systems. Our products improve the way people interact with the world around them, enhance public safety and well-being, increase energy efficiency, and enable healthy and entertained communities.

Delivery & Collection Information

We use next day couriers to deliver all our test instruments.  That means it doesn't matter if you're 2 or 200 miles away, we can have the test equipment you need, delivered first thing, next day.

When you have finished with the test equipment we can arrange for the same courier to collect it from you.

We also offer a same day delivery service for when you really need the test equipment urgently.