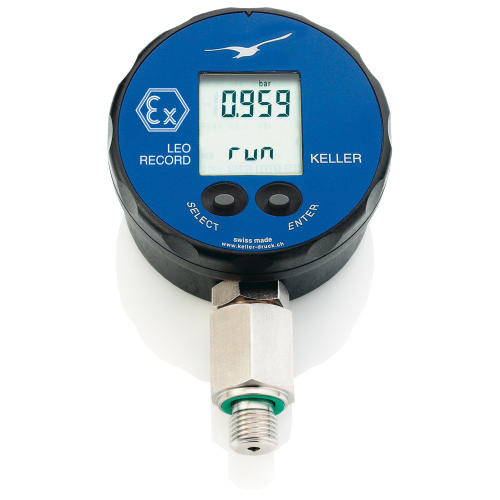 Keller Leo Record – 300Bar
The LEO Record for hire is an autonomous battery powered manometer with digital display designed for monitoring pressure and temperature in a standalone unit. The LEO Record uses a piezoresistive pressure cell. Pressure ranges are available from -1 to 3 Bar up to 0-2000 Bar. Internal memory for 57,000 readings and internal 3.6V Lithium battery allows up to 2 years operations. Logged data can be viewed in table or graph format and exported to MS Excel using the K114A and Logger 5 software. Accuracy is ±0.1%FS and 0.5°C, operating temperature 0 to 50°C. The LEO Record is available as an intrinsically safe version from stock suitable for hazardous area installations.
SKU: kell300-16
HIRE DURATION
PRICE per week
Technical Specs

Calibration Certificate
Available as -1 to 3Bar, -1 to 30Bar or 0-300Bar
High measuring accuracy, resolution and robustness
High data security due to the use of a non-volatile memory
Display of the actual pressure and the record status
Recording of the pressure and temperature
Pressure connection with G1/4″ thread

Keller

Your Swiss Pressure Sensing Specialist

Europe's leading manufacturer of isolated pressure transducers and transmitters
Pressure ranges from 5 mbar to 2000 bar
High volumes at low prices, great flexibility, highest accuracies
Production of more than one million pressure transducers and transmitters per year
KELLER is certified according to ISO 9001:2008
KELLER AG für Druckmesstechnik, headquartered in Winterthur (Switzerland), is Europe's leading manufacturer of isolated pressure transducers and transmitters. The company, which has a global workforce of around 400 employees, was founded in 1974 by Hannes W. Keller, a graduate in physics and the inventor of the integrated silicon measuring cell. The entire value creation, from production of the individual parts and calibration of the sensor through to the final inspection of the finished products, takes place at the headquarters in Winterthur. All KELLER AG products are therefore "Made in Switzerland".

KELLER AG piezoresistive pressure sensors have impressively high precision and pressure ranges from 5 mbar to 2000 bar. In addition to more than 500 standard products, the company also develops and produces numerous customised solutions. Using state-of-the-art, automated manufacturing processes, large runs of industrial OEM transducers as well as special design versions in very small quantities are produced in more than 35 highly-specialised machining islands, resulting in more than one million pressure transducers and transmitters per year. The high quantities mean that we can keep prices low despite complex production processes and stringent quality requirements.

The KELLER AG product range includes digital manometers, level probes, data loggers, remote transmission units and pressure calibrators. Digital display equipment completes our wide range. The application areas for our pressure transducers are just as broad as our product range. For example, they regulate the internal cabin pressure in aircrafts, ensure the smooth switchover from natural gas to petrol in hybrid vehicles and are used as reference sensors in laboratory technology. KELLER special sensors, such as modular pressure catheters and other miniature transducers, are especially popular among researchers

Delivery & Collection Information

We use next day couriers to deliver all our test instruments.  That means it doesn't matter if you're 2 or 200 miles away, we can have the test equipment you need, delivered first thing, next day.

When you have finished with the test equipment we can arrange for the same courier to collect it from you.

We also offer a same day delivery service for when you really need the test equipment urgently.