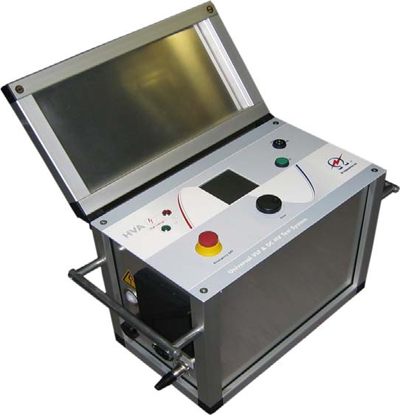 HVA 60 High Voltage Test System
The HVA60 is not only the most advanced HV test system available, it is also the lightest, most compact instrument of its type on the market. The HVA60 has the highest power to weight ratio of any comparable unit available. There is no need to carry two pieces of equipment around and then interconnect them! Apart from the variable frequency VLF output, the operator can also select dual polarity DC and cable jacket or sheath testing outputs modes. The applied test voltage, current, capacitance, resistance and time are displayed and recorded. HVA 60 Output Voltage 0-60kV Output Current 0-50mA Output Frequency 0.02-0.1Hz Weight 59.8Kg Resistance Range 0.1MO-20GO
The instrument is easily programmable allowing the operator to setup or select test sequences in either automatic or manual mode. The HVA60 is capable of testing 1µF (Approx. 10,000 ft/ 3000m of cable) at 0.1Hz and 60kV peak. The frequency of the output can also be reduced allowing even larger capacitance loads to be tested. At 0.02Hz, approx. 50,000 ft/15,000m of cable can be tested. The load independent, symmetrical output waveform avoids the potentially destructive space charge effects caused by DC polarization that occurs in aged extruded cables such as XLPE / PE / EPR, causing them to fail prematurely when exposed to conventional high voltage DC or to test instruments with large non-symmetrical output waveforms. Should a breakdown occur during testing, the actual voltage at which it occurred is displayed and recorded. If cable burning (fault conditioning) mode is activated, the fault resistance can be conditioned to allow easier and less stressful fault location techniques to be applied The smallest, lightest, most advanced universal high voltage test instrument available, ideally suited for a variety of applications. VLF (0.1Hz), DC (±), Cable Fault Conditioning (Burning), and Sheath/Jacket Testing modes all included. VLF: the proven and accepted replacement for the traditional DC Hipot or "proof" test for solid dielectric cables such as XLPE and EPR. Fully Automatic or manual cable test sequences complying with International Standards/Guides such as IEEE 400.2, VDE 0296, CENELEC, etc. Meets all your cable testing requirements True Symmetrical Sinusoidal, load independent, output waveform across the load range. Real-time Display of actual output waveform Easy to use, ergonomic, menu guided, large backlit user interface
SKU: hva60-Q
HIRE DURATION
PRICE per week
Technical Specs

VLF (0.1Hz), DC (±), Cable Fault Conditioning (Burning), and Sheath/Jacket Testing
modes all included.
VLF: the proven and accepted replacement for the traditional DC Hipot or "proof" test
for solid dielectric cables such as XLPE and EPR.
Fully Automatic or manual cable test sequences complying with International
Standards/Guides such as IEEE 400.2, VDE 0296, CENELEC, etc.

HVA

b2 electronic GmbH with its business division b2 High-Voltage is an internationally operating company, which develops, manufactures and distributes practically oriented high voltage equipment for simple cable testing, cable diagnostics and onsite oil testing.

Several decades of development experience in the field of test engineering, a profound understanding of the needs of energy suppliers and the will for improvement, equip the company with the skills required for lasting success.

Systems by b2 are benchmark worldwide for innovation, low weight, compact dimensions and usability and prove themselves with energy suppliers all over the world.

b2 is in a constant dialog with its customers, collects their suggestions and needs, matches them to b2 visions and develops new product ideas out of that.

By an active, certified quality management along the entire business process, b2 ensures also in the implementation of its ideas a maximum of customer satisfaction.

Delivery & Collection Information

We use next day couriers to deliver all our test instruments.  That means it doesn't matter if you're 2 or 200 miles away, we can have the test equipment you need, delivered first thing, next day.

When you have finished with the test equipment we can arrange for the same courier to collect it from you.

We also offer a same day delivery service for when you really need the test equipment urgently.