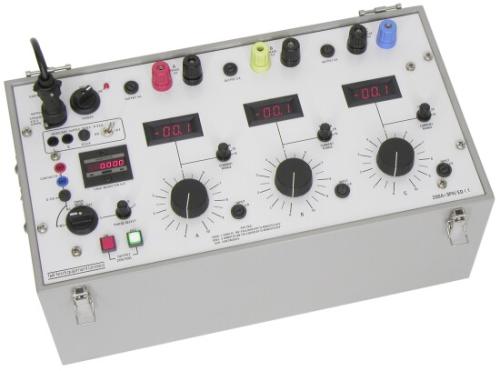 T&R 3 Phase 200A SCITS
The 200A-3PH test system provides commissioning and maintenance engineers with a compact, portable and flexible system for the testing and timing of protective relays, circuit breakers and thermal overloads. The unit is equally at home testing solid state or electro-mechanical relays, and has a rating suitable for testing thermal trips.
The 200A-3PH/ED has independent true RMS digital metering for each output withindependently selectable ranges.
The outputs are isolated and independently variable, and allow the injection of currents up to 200A. The outputs are protected by electronic over-current trips and fuses.
The timing system on the 200A-3PH is flexible and exceptionally easy to use, allowing trip times to be measured to a high degree of accuracy. Units with auxiliary contacts may be timed using the NC or NO timer modes, and devices with no auxiliary contacts may be timed using the current operated mode. The unit is ideal for testing the following devices:
* Over and under current relays * IDMT relays * Thermal overloads * Magnetic circuit breakers
The units may also be used in conjunction with the DVS3 digital voltage source to test protection systems requiring three voltages and three currents. Protection that may be tested in conjunction with the DVS3 includes:
* Directional relays * Distance protection * Power relays and transducers
SKU: tr200a-40
HIRE DURATION
PRICE per week
Technical Specs

Range: 5V
Continuous: 50A
5 mins: 100A
1 min : 200A

T&R

T & R Test Equipment Ltd. is a member of the T & R group of companies which design and manufacture a wide range of products, including electrical test equipment, power transformers, specialist transformers and power rectifiers.

The group includes:

Transformers & Rectifiers

Delivery & Collection Information

We use next day couriers to deliver all our test instruments.  That means it doesn't matter if you're 2 or 200 miles away, we can have the test equipment you need, delivered first thing, next day.

When you have finished with the test equipment we can arrange for the same courier to collect it from you.

We also offer a same day delivery service for when you really need the test equipment urgently.